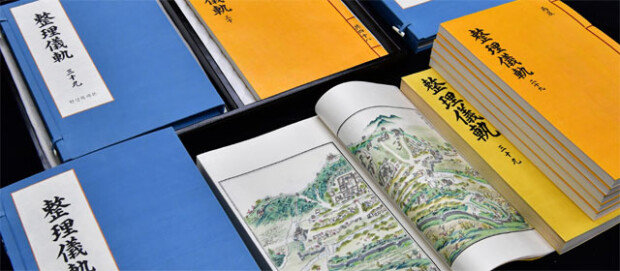 The city government of Suwon, Gyeonggi Province unveiled, for the first time in Korea, on Wednesday Jeongni Uigwe, or the Royal Protocols on King Jeongjo's Visit to the Crown. Uigwe refers to a vast collection of books recording in detail the Joseon Dynasty's (1392∼1910) royal rituals and ceremonies and major state-funded construction projects. The highly rare records were included in the UNESCO's Memory of the World Register in June 2007.
Suwon on Wednesday released replicas of 13 volumes of Jeongni Uigwe – one that is currently kept in the National Library of France and 12 others owned by the French National Institute of Oriental Languages and Civilizations' University Library for Languages and Civilizations Studies. The reproduced copies will be showcased in a special exhibition at the Suwon Hwaseong Museum from October 18 to December 16.
Jeongni Uigwe is a collection of various Uigwe records of royal protocols depicting the process of relocating the tomb of the father of King Jeongjo, the 60th birthday feast for the king's mother, and the construction process of the Suwon Hwaseong Fortress. The original books are currently not in Korea.
The Jeongni Uigwe copies owned by France was collected by Victor Collin de Plancy (1835∼1922), the first French diplomat in Korea. It is believed that 12 of them were donated to the French National Institute of Oriental Languages and Civilizations, while the other one ended up in the National Library of France's collection via auctioneers.
Learning about the existence of the 13 Jeongni Uigwe books in July 2016, Suwon collaborated with the Cultural Heritage Administration to gain access to the original copies and created the replicas. At that time, Suwon asked France to lend Jeongni Uigwe to the Korean city, only to be rejected by France that had become sensitive following the repatriation to Korea of the Oegujanggak Uigwe. As Jeongni Uigwe was not looted, they are not subject to repatriation.
lkj@donga.com