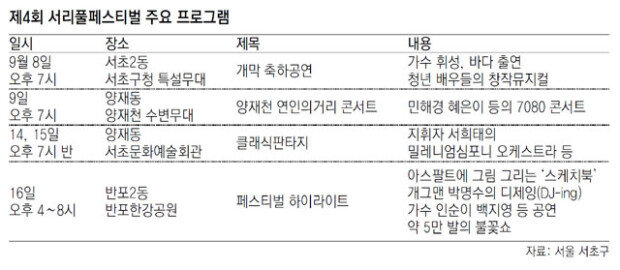 An urban festival is taking place inside Seoul, offering a colorful range of events such as celebrity shows, fireworks, an opera at Yangjaecheon Stream, and b-boy performances. The Seocho-gu office of Seoul announced on Monday that it will launch the 4th Seoripul Festival various spots across Seocho-gu such as Banpo Hangang Park and Yangjaecheon Steam from September 8 to 16.
The festival is themed around the phrase "United with Youth." To make the event a success, Seocho-gu designated Ko Hak-chan, the president of Seoul Arts Center, as the head of the festival's organizing committee. A variety of events have been prepared for the Seoripul Festival, which has gathered about 520,000 visitors and generated an economic effect worth 52.6 billion won over the past three years.
The venue for the highlight of the festival, which will fall on September 16, has changed from last year to Banpo Hangang Park. The new venue will allow visitors to enjoy the event against a beautiful night sky. Starting at 4:00 p.m., a free drawing contest called "Sketch Book" event will take place across the 3,800 m²-wide asphalt areas stretching from the Saevitseom entrance to Han River walking paths. The residents will take part in the event for various performances.
The scope of concerts will also span wide from pop to classical music. A performance titled "Classic Fantasy" will be held at Seocho Culture & Arts Center on September 14 and 15, and a "Bangbae b-boy festival" will take place at Duitbul Park in Bangbae-dong at 3:00 p.m. on September 8. The b-boy festival will present a number of dancers such as J Black, a famed street dancer in South Korea.
"We expect that culture events will instill a sense of dream and happiness into our youths, serving as an opportunity to make our culture and arts flourish, "said Cho Eun-hee, the head of Seocho-gu district.
Ki-Beom Kwon kaki@donga.com