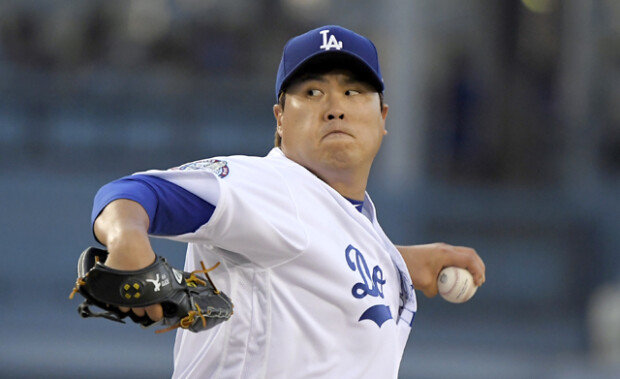 Los Angeles Dodgers' South Korean starting pitcher Ryu Hyun-jin returned to the team's rotation with a stellar return from an injury, tossing six shutout innings against the San Francisco Giants at Dodger Stadium in Los Angeles on Wednesday (local time) while giving up just three hits. He also struck out six while walking none. However, he settled for a no-decision as the bullpen allowed a tying score in the top eighth inning. The Dodgers won the game 4-3 in the bottom of the 12th inning.
It was a burdensome game for Ryu. Mired in a five-game losing streak, the Dodgers needed a rebound. With Dodgers closer Kenley Jansen sidelined due to with an irregular heartbeat that hospitalized him recently, the team sent starters Kenta Maeda and Ross Stripling to the bullpen. Local media raised questions about Dodgers manager Dave Roberts' pitching management, as he shifted good starters to the bullpen and put injury-stricken Ryu on the starting rotation. Had Ryu failed to perform well, the manager could have faced heavy criticisms.
Ryu repaid the manager's trust with the stellar performance. After Wednesday's match, Roberts lauded him for having returned in a perfect condition and dominated the game. He added that Ryu knows how to lead a game and that the pitcher performs well in big matches.
yesbro@donga.com