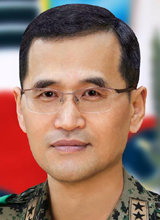 President Moon Jae-in on Friday appointed Lt. Gen. Nam Young-sin, the current commander of the Army's Special Warfare Command, as new commander of the scandal-ridden Defense Security Command (DSC). "For the across-the-board and expeditious reform, (the president) ordered the creation of a new command by disbanding and reorganizing the current DSC to historically break with its past," the president's chief press secretary Yoon Young-chan told a news conference. The president meant that the military should disband the DSC and create a totally new military intelligence unit.
"President Moon received proposals for reforming the DSC from a reform committee and Defense Minister Song Young-moo," Yoon said. The president called for forming a body to prepare for the establishment of the new command and presidential decrees necessary for the new command "as soon as possible," the press secretary added. The president's replacement of the DSC chief and order to set up a new military intelligence unit indicate his intention to promptly address the DSC issues involving revelations that the unit reviewed the possibility of imposing martial law last year to quell protests against former President Park Geun-hye, who was later removed from office amid scandals. While a new unit that will replace the DSC will retain its status as a command, it will be a completely different organization in name and size.
Meanwhile, presidential office Cheong Wa Dae refused to comment on whether the defense minister will also be replaced, suggesting that there is a possibility for his dismissal. Many observers in the ruling camp project that the defense chief will be replaced after the ongoing probe into the DSC is over.
alwaysj@donga.comysh1005@donga.com