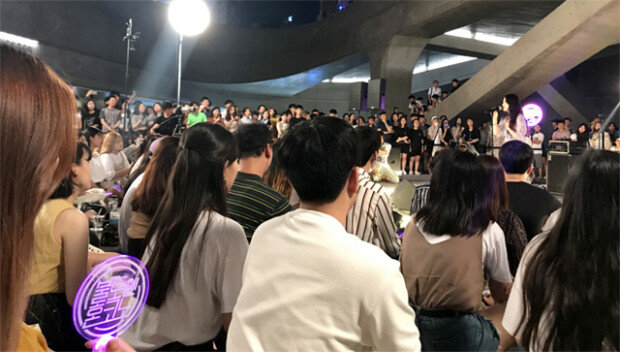 "Honkono" and "Utaitae" look like Japanese words, but one is actually Korean. Honkono is abbreviation for Honjaseo Coin Noraebang (meaning a person who goes to a coin karaoke to sing by oneself). Utaitae is a Japanese word for a singer, but used as the same meaning as Honkono. The culture appeals to the younger generation in both Korea and Japan. Both are similar in that people sing in a closed space.
The coin karaoke room, easily found in the Hongdae and Gangnam regions in Seoul, is not reminiscent of the past. Rather, it is a new trend, just as those in their 20s or 30s can be easily found eating, watching movies or performances alone. For just 1,000 won, people can sing three to four songs alone and upload video selfies on social networking services.
The trend has caught on in the broadcasting media as well, with new TV programs being made. TV show "Honkono on Saturday Night Fever" features a coin karaoke singing contest. Every Saturday, pedestrians on invited to vie in a transparent karaoke booth set up on the streets. The booths are dispersed around several locations in the Seoul Metropolitan region, such as the Gyeongui Line Forest Park, Yeouido Hangang Park, Wolmido of Incheon, Seoul Institute of the Arts campus in Ansan and La Festa of Goyang City. M2, the digital channel of Korea's leading music channel Mnet, started airing the program in May via Facebook and other social networking channels and eventually found its way into Mnet's main TV channel.
Recently the first winner of the program is set to debut as a professional singer. High school student Park San-hee won the 10 million won prize and will soon launch her first official single this month. Her video recorded seven million queries and 50,000 votes. "We tried to win intuitive participation from the younger generation, who are familiar with viewing videos on social networking service, by leveraging the vote function on Facebook. The second winner will be determined later this month, with many more to come," said a person at Mnet.
In Japan, Utaitae, or imitation singer, has become in independent music genre and culture. Superstars have been born, those who have uploaded their videos on Japan's popular video sharing service, Nicovideo. Amateur singers upload songs or videos made from vocaloids or idol master songs sung by voice actors, which is voted by viewers.
Japanese Utaitaes are also popular in Korea. Led by 96 Neko and Yumeko last year, Utaitae have staged five concerts in Korea. KK, a popular Utaitae whose real name is Kamikita Ken (aged 30), sold out as soon as the booking opened. There are even some Korean Utaitaes who cover the songs sung by Japanese Utaitaes.
The Honkono and Utaitae phenomenon can be seen as a reinterpretation of imitation. Once looked down as amateur or school band practices sessions, the "Cover culture" is now viewed as a new type of source content in the era of social media including YouTube. "There are many Hikikomoris (reclusive people who withdraw from social life) among Utaitaes that confess they have found new hope through singing. Every year, Utaitaes flock to Hikikomori Festivals," said CEO Kim Ik-rae of J-Box Entertainment, who planned the Utaitae Concerts in Korea.
imi@donga.com