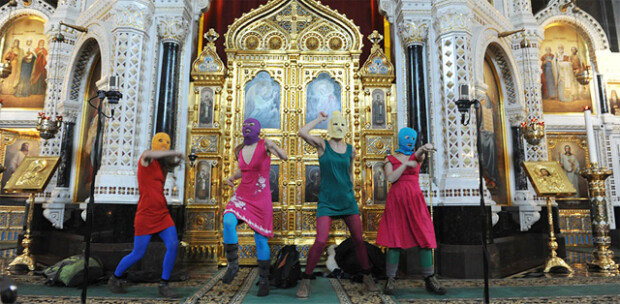 The final match of the Russia World Cup between France and Croatia at Luzhniki Stadium in Moscow on July 15 was briefly halted at the seventh minute in the second half in the wake of abrupt intrusion into the ground by three women and one man clad in police uniform. The four, who were taken away by security guards, were members of Pussy Riot, an anti-regime art band of Russia.
The interrupters deserved criticism for interrupting the shifting flow of the match as Croatia, while trailing 1-2, was poised to counterattack the French team. The next day, the Russian court handed them 15-day detention for violating rules on sports spectators' act and wearing police uniforms without permission. They have also been banned from participating in all sports events held in Russia over the next three years.
As shown in this case, Pussy Riot resists the Russian government mostly by staging anti-regime guerrilla performances at public places or disclosing original songs of lyrics containing political messages. They mostly address feminism, LGBT rights and anti-Putin campaigns. The funk rock band that was formed in August 2011 is actually closer to an artistic group in nature. Members include musicians and artists who advocate for feminism and anti-authoritarianism. The exact number of members is unknown but is estimated at 11. Masks with holes for the eyes and mouth and colorful tights they wear symbolize the group.
Pussy Riot emerged as the symbol of "anti-Putin" campaign on February 21, 2012. Back then, President Putin was almost certain to win his third term at the presidential election one month later. Five members, who stealthily penetrated into the Jesus Christ Cathedral in Moscow, sat in the central altar, a "section off-limit to women." They were dancing and singing the song "Virgin Mary, please kick out Putin," before being forced out by security guards a minute later. However, a video clip on their protest went viral on YouTube. Three of them were arrested by police, and given by a Moscow court a two-year prison sentence for the charge of hooligan acts due to religious aversion.
wizi@donga.com