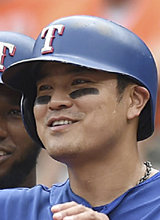 Choo Shin-soo, the Korean right fielder of the Texas Rangers, extended his on-base streak to 51 games.
In a Sunday match against the Baltimore Orioles at Oriole Park at Camden Yards, the South Korean slugger started the game with a walk in the first inning as designated leadoff hitter. It was his 51st consecutive on-base game since May 14. Choo got on the base four times, with a clean hit in the fifth inning, a homer in the seventh, as well as another walk in the ninth inning.
Having gone through the first half of the season, Choo has pulled off 18 homers and 102 hits, with a 0.293 batting average and a 0.408 OBP. This season, the Korean leadoff hitter finds himself on the verge of breaking his own career records of batting average (0.309 in the year of 2008), OBP (0.423 in the year of 2013), as well as homeruns (22 in the years of 2010, 2015, and 2017).
Choo's recent performance has shed a new light on the on-base records of the past. The Baseball-Reference.com, an MLB record archive site, said that the best on-base streak of Babe Ruth was 50 games in 1923. After Choo tied Ruth's record on Sunday, however, it was belatedly discovered that the baseball legend's on-base record was in fact 51 games. On May 24, 1923, Ruth walked four times as a clean-up hitter during his seventh appearance of the 51 on-base streak games, and his at-bats and hits were recorded as zero, causing this game to be deducted from his on-base record. In the year of 1923, Babe Ruth dominated the big league with 0.393 batting average, 41 homers, and 130 RBIs, and feared by pitchers, the MLB legend was allowed to walk as many as 170 times that year.
Bae-Jung Kim wanted@donga.com