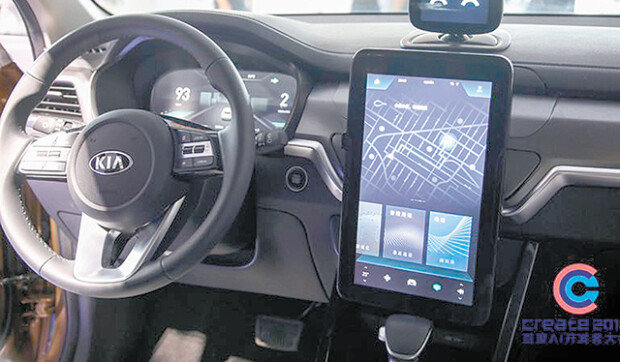 It looks like drivers will be able to talk with artificial intelligence (AI) robots while driving. Hyundai-Kia Motor Group is partnering with Baidu, China's search engine giant, to strengthen cooperation on connected car technologies, including AI robots.
Hyundai-Kia Motor Group and Baidu signed a memorandum of understanding (MOU) Tuesday for strategic cooperation on connected cars at the Chinese firm's headquarters in Beijing, China. The two companies will raise their bilateral cooperation to the level of "alliance," according to the MOU. It is Hyundai's strategy to target China's future generations by cooperating with Baidu in the largest car market in the world.
Baidu is said to have the highest level of technologies in areas such as search engine, AI, voice recognition, and connectivity. Hyundai-Kia Motor Group and Baidu demonstrated their AI robot technologies last Wednesday at the Baidu AI developer conference held at the China National Convention Center in Beijing. They showcased Kia's SUV Zhi Pao (Sportage in Korea) featuring Baidu's AI robot "Xiaodu" at the conference.
Baidu's AI robot Xiaodu communicates with the driver to serve as a personal assistant, reporting latest news, providing a weather forecast and managing schedules, and to control vehicles, such as GPS, air conditioning system and opening and closing of the doors. When the driver looks at the screen, the eyes appear on the screen even winks at the driver. The Korean motor giant group and Baidu aim to upgrade the functions of Xiaodu by detecting drivers falling asleep at the wheel or driving carelessly and send warning signals.
Hyundai Motor and Kia Motor are collaborating with other Chinese ICT companies, such as Tencent and China Unicom, given that young generations in China, who are sensitive to smart devices, are rapidly becoming interested in cutting-edge future cars.
Currently, Hyundai and Kia are seeing lackluster sales in China. Last year, its sales fell by 36.1 percent compared to previous year due to the THAAD backlash. Although its sales in the second quarter of this year soared by 95.2 percent year-on-year, the figure falls short of the sales volume (439,038) in the second quarter of 2016.
Against this backdrop, the fact that Hyundai-Kia Motor Group is partnering with the Chinese ICT company helps enhance the company's image in China and can be effective in responding to a future market. In fact, high-income earners born in the 1980s and 1990s in China are emerging as key consumers globally as they are sensitive to smart devices and trends.
Hyoun-Soo Kim kimhs@donga.com