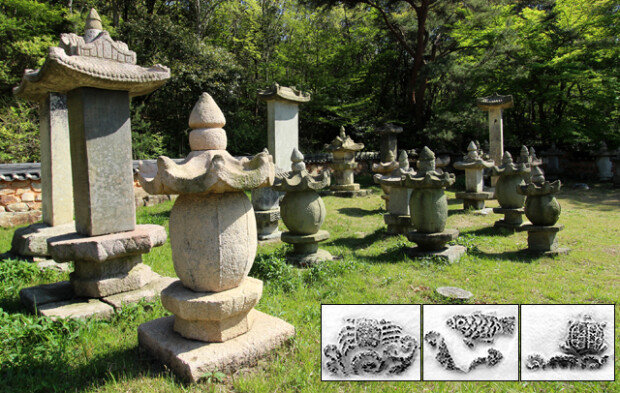 Mihwangsa is a Buddhist temple located at the southernmost end of the Korean Peninsula, nestled on the foot of Mount Dalma in Haenam Country, South Jeolla Province. Built in 749, the temple has been standing there for over 1,300 years. The temple, albeit small in scale, boasts plenty of natural and cultural assets, including a beautiful camellia tree, the Daeungjeon sanctuary (Treasure No. 947) and the Ungjindang hall (Treasure No. 1183). In addition, the temple also has a cluster of 27 pagodas and monuments.
At an academic conference held by the Association of Dongak Art History at Dongguk University in Seoul on last Saturday, historians released the results of their research on the temple's Buddhist art. Shin Yong-chul, the head of the Yangsan Museum, gave a presentation on his analysis of the hidden codes of the animal images at the temple.
Animal images are inscribed on a total of 10 pagodas and steles at the temple. Most of them are marine creatures such as crabs, turtles and fish. Historians believe that considering the temple's proximity to the sea, the animals signify ancient people's wish for safety from fire and longing for their utopia, the underwater palace of the sea king. There are also a number of animal images of squirrels, rabbits and deer that symbolize abstinence, revival and Sakyamuni.
Most of the temple's sarira pagodas, or pagodas preserving the relics of the Buddha or respected monks, were built in the 17th and 18th century after Japan's two major invasions of Korea in the 15th century. Shin said that few sarira pagodas were built during the early and middle period of the Joseon Dynasty, which oppressed Buddhism. The 16th century was called a period of no pagoda, he said. However, eased restrictions on Buddhism after the wars led to the "heydays" of pagodas in the 18th century, and Mihwangsa was active in building sarira pagodas, he explained.
Won-Mo Yu onemore@donga.com