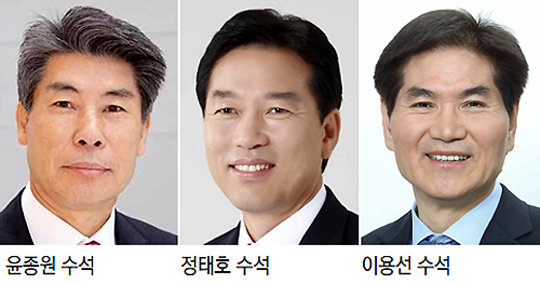 President Moon Jae-in has appointed three new senior secretaries for economy and policy planning, signaling the start of a major shakeup to achieve economic results that can actually benefit people. While presidential chief of staff for policy Jang Ha-sung is staying in office, the reshuffle is widely viewed as a punitive measure taken against Jang and his staff.
President Moon Jae-in on Tuesday appointed South Korean ambassador to the Organization for Economic Cooperation and Development (OECD) Yoon Jong-won to senior secretary for economic affairs and presidential secretary for policy planning Jung Tae-ho to senior presidential secretary for job creation. President Moon also chose Lee Yong-sun, a district chief of the Democratic Party, as the senior secretary for civic affairs, a new title replacing senior secretary for civic reform. The reshuffle of senior presidential aides reflect President Moon's will to avoid continued confusion in economic policy by appointing economic experts and pro-Moon aides to key posts, thereby driving income-led growth and innovative growth.
"With the newly appointed secretaries, Cheong Wa Dae will speed up implementing income-led growth and innovative growth policies and produce results quickly so that people could actually feel the benefits," Chief presidential secretary Im Jong-seok said on Tuesday during his announcement of the reshuffle.
Newly-appointed senior secretary for economic affairs Yoon Jong-won is an economic bureaucrat, who was appointed to key economic posts both by the Roh Moo-hyun and Lee Myung-bak administrations. He has served in various offices, including the Ministry of Strategy and Finance, the Office of the President and International Monetary Fund. Yoon's predecessor and former professor Hong Jang-pyo, who created the framework of income-led growth, is now named head of the Income-led Growth Committee under the presidential committee on policy planning.
Senior secretary for job creation Jung Tae-ho is a pro-Moon expert on policymaking, who served as a spokesperson, secretary of state affairs and of policy coordination at the Office of the President during the Roh Moo-hyun administration and was in charge of policy coordination at President Moon's presidential camp. The reshuffle shows President Moon's strong determination to produce tangible economic results instead of experimenting with economic theories.
Meanwhile, secretary-level reshuffle has been undertaken as well. Cho Han-ki, a presidential secretary on protocol, will replace presidential secretary Song In-bae, who is embroiled in the "Druking" scandal. And Song will serve as presidential secretary for political affairs, a post currently vacant. Senior executive official at Chief of Staff Office Kim Jong-cheon was promoted to presidential secretary on protocol.
Cheong Wa Dae is planning to reorganize the Presidential Secretariat and the presidential policy office and replace several secretaries. Also, it will gather opinions from the Office for Government Policy Coordination and the ruling party to carry out a cabinet reshuffle.
weappon@donga.com · alwaysj@donga.com