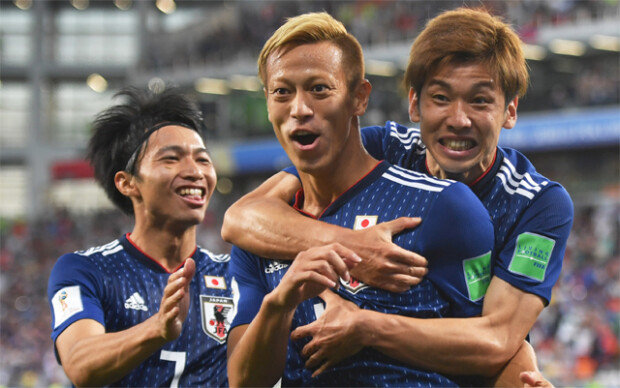 Japan defeated Colombia 2-1 last Monday in their first game of Group H in the 2018 FIFA World Cup Russia. In fact, Japan had previously conceded a painful loss by 1-4 to the Latin American country in the 2014 World Cup in Brazil.
The victory on June 19 made Japan the first Asian country to defeat a Latin American country on a World Cup stage. The surprise win was cause for a crazed celebration for the Japanese. The Colombia match was dubbed as "the miracle of Saransk" by Japanese media.
In their second World Cup group match on Monday in Yekaterinburg Arena, Japan boasted indefatigable stamina against the well-built Senegalese players. Executing 111 more passes than the opponents, Japan overwhelmed Senegal in pass success rate by five percentage points (Japan: 84 %, Senegal: 79 %).
Having allowed an opener to the African country, Japan was able to equalize the game thanks to a precise goal execution by Takashi Inui in the 34th minute of the first half. Yuto Nagatomo collected a long pass from Gaku Shibasaki before giving a short pass towards Inui, who swooped in from the left and sent the ball curling into the corner with his right foot.
In the 33rd minute of the second half, Honda Keisuke collected a cross from the left side by Inui and netted an equalizer with ease in front of the goal. Honda was surrounded by five Senegal defenders, who were napping out of exhaustion.
The equalizer made Honda the first Japanese footballer to have scored in three consecutive World Cup stages. Honda has become the most prolific Asian scorer in World Cup games, with a total of four goals (two from 2010, one from 2014).
uni@donga.com · yesbro@donga.com