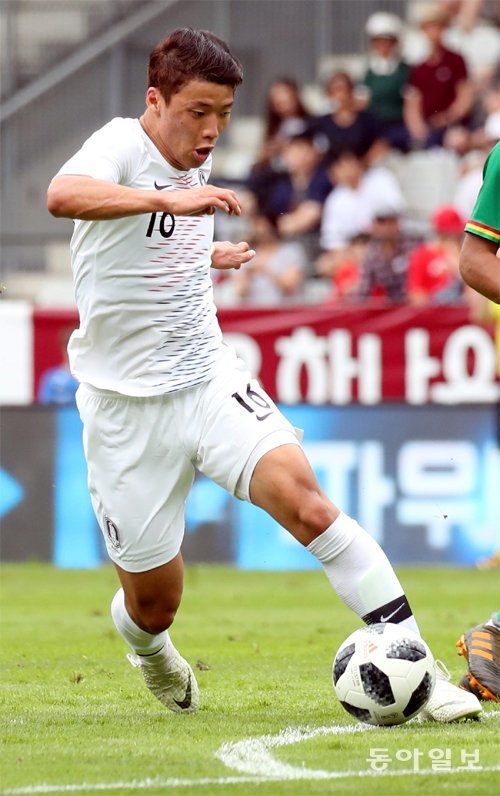 In his first World Cup match, Hwang Hee-chan boasted a bold play, charging down the other half of the pitch. His speed peaked out at 32.4 kilometers per hour during Team Korea's first game on Monday, the best record among all Korean players. The burgeoning Korean striker drew cheers from the crowd with his dashing into the box, but the finish fell short each time.
Preparing for his second World Cup game against Mexico, Hwang Hee-chan, the 22-year-old striker of FC Red Bull Salzburg, seemed as angry as a bull. Hwang, who only managed to strike one shot against Sweden, is seeking to redeem his honor in the match with Mexico. In the Monday match against Sweden, his focus was impaired as he was placed in the side and had to engage in defense as well. Hwang says he is most confident when playing as center forward on the top.
Mexico is known to mount strong pressure toward their opponents, and it can lead to an exposure of space in the back of defense line when moving forward. Therefore, it is highly probable that Hwang will play as one of the two top strikers along with Son Heung-min.
Hwang's skillful one-touch passing is expected to allow for connective plays with his teammates in the forward line. The 22-year-old Korean often has strategy discussions with Son Heung-min and Lee Seung-woo to boost his teamwork with the two most agile dribblers of the national team.
Perhaps, the biggest challenge for Korean players in the showdown with Mexico will be Rafael Marquez, the "bedrock" of Team Mexico. Having played in 146 international matches, Marquez showed up on the pitch as a substitute in his game against Germany and became the third footballer to play in the World Cup stage for the fifth consecutive time.
Ranked 15th in the FIFA ranking list, Mexico is expected to play aggressive against Korea, whose FIFA ranking is much lower at the 57th. Experts say that Marquez's ability to set the tempo of the game and his stable defense skills will play an important role in the game to prevent the attacks-heavy Mexico from conceding a point in counterattacks. The 39-year-old veteran of Mexico plays center back for a three-back formation, and is flexible enough to switch to a defensive midfielder for a four-back variation. However, he is not in his prime form in terms of agility. Korean forwards will have to find a chink in the armor with proactive attacks.
"Marquez has rich experiences. His leadership will certainly help our team," said Juan Carlos Osorio, the manager of the Mexican national football team. "Korea plays fast. Our goal is to contain their speed and build on the momentum from our victory against Germany."
Yun-Cheol Jeong trigger@donga.com