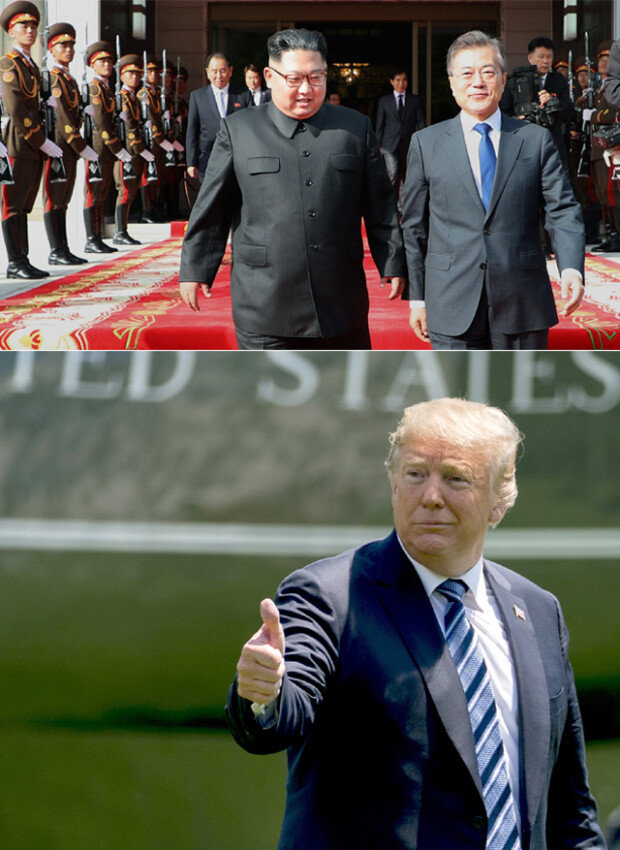 South Korean President Moon Jae-in held a surprise summit with his North Korean counterpart Kim Jong Un Saturday at Tongilgak on the northern side. "I will cooperate to successfully hold the North Korea-U.S. summit," said Kim. He requested Moon to hold a meeting to resume the summit with the United States after Trump called it off. The denuclearization talks hit by the whims of the tension between Pyongyang and Washington are now likely to make a dramatic turn once again.
"Kim clearly announced that he has a firm will to completely denuclearize the Korean Peninsula as he said at the Panmunjom Declaration, and said he would cooperate to end the history of war and confrontation and build peace and prosperity," said Moon Sunday at the presidential office Cheong Wa Dae.
Friday was a day after Trump cancelled the summit through a public letter. The North Korean leader kept a low profile in his letter announced by North Korea's First Vice Foreign Minister Kim Kye Gwan, and even requested a surprise meeting with Moon to show his will to resume the summit.
"We will strive to achieve the best result possible by listening to the voice of the international community, and resolve issues between the two Koreas," said Kim right after he met with Moon Saturday. "(Kim) expressed gratitude to Moon for his efforts to hold the historic North Korea-U.S. summit successfully on June 12, and showed a resolute attitude for the summit," the Rodong Sinmun reported. It is the first time that North Korean media reported the date of the summit.
Kim reportedly showed a positive attitude for the "Trump model," which promises to reward the North for swift and complete denuclearization at the summit with Moon. "The mutual nonaggression promises and peace treaty can be reviewed only after Pyongyang makes an agreement with the United States about denuclearization and implement the steps," a high official of Cheong Wa Dae said.
weappon@donga.com · alwaysj@donga.com