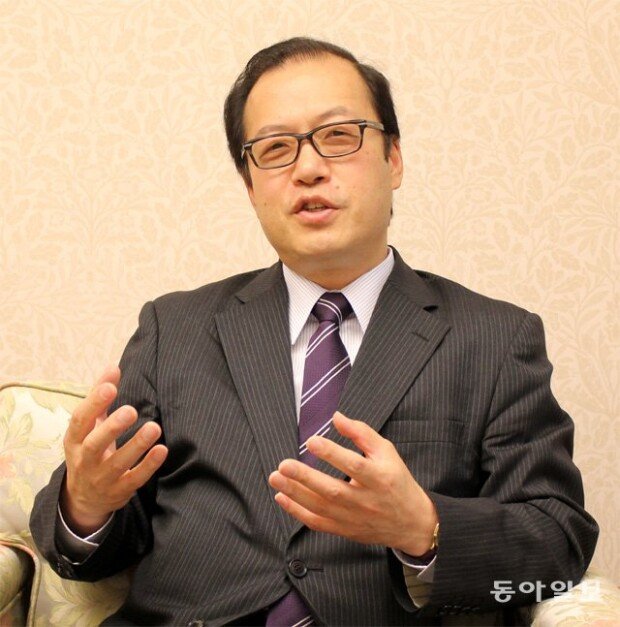 Kwak Yang-choon, president of Rikkyo University, a prestigious private university in Tokyo, Japan, extended his hand to a Dong-A Ilbo reporter in his office on the Toshima Campus, greeting in fluent Korean. A second-generation Korean, Kwak became the first Korean to take the helms at a major university in Japan. His term is four years. "I was born and raised in Tokyo but I can speak Korean properly," he said, smiling.
Founded by a U.S. missionary in 1874, Rikkyo University is considered one of the most prestigious private institutions of higher education in Japan, following Keio and Waseda universities. Kwak is Rikkyo's first non-Japanese president since the end of World War II. "We may not be well-known in Korea because we do not promote ourselves under the founding spirit of "teach the way, not the self, we are recognized in Japan for our long tradition and history," he said.
Rikkyo University is also where famous Korean poet Yun Dong-ju studied during Japan's colonial rule of Korea. Since 2008, Rikkyo holds a memorial event every February at its chapel on his death anniversary. "It is our honor that a poet who is highly regarded in both Korea and Japan studied here," said Kwak, who recited one of Yun's poems in person at this year's event. "We also have a manuscript of his poem written on Rikkyo University's squared manuscript paper, which was exhibited at a school event several years ago." He also noted that the university offers 600,000 yen (5,478 U.S. dollars) per person in Yun Dong-ju Scholarship to 10 students from Korea every year out of respect for the late poet.
Kwak is an economist with specialty in Asian economy. "As the Japanese economy is rebounding recently, more Japanese companies want to hire global talents," he said. "I hope that more Korean students will come to Japan and to Rikkyo, instead of clinging to going to America. I am sure they will be fully recognized for their competency and achieve self-realization."
As of October last year, there were 183 Korean undergraduate students studying at Rikkyo. "It is saddening to hear about Korea's youth unemployment," he noted. "Based on my experience in teaching them in person, Korean students were all sincere and excellent."
Kwak is the oldest son of the late Kwak Dong-eui, former chairman of the Democratic Unification Union in Japan, who fought for the reunification of the two Koreas. Asked about the reconciliatory mood in the Korean Peninsula, Kwak said, "Korean residents in Japan had difficult times (whenever North Korea conducted a nuclear test). I hope that there will be more occasions like the forming of a unified women's ice hockey team at the PyeongChang Winter Olympic Games that would ease tensions on the peninsula and lead to peace."
Regarding Japan's shift to the right, the scholar noted, "There are anti-intellectualistic movements in Japan, as is the case with the Trump administration in the United States. It is at this juncture that members of academia should work harder to convey the message that right-minded intelligence leads to right judgment."
Won-Jae Jang peacechaos@donga.com