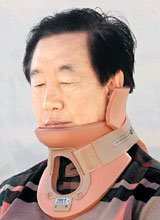 The main opposition Liberty Korea Party's floor leader Kim Sung-tae, who has been calling for an independent counsel investigation into an online opinion rigging scandal involving a blogger, was attacked by a man in his 30s during his hunger strike on Saturday.
The 31-year-old attacker approached by asking for a handshake to Rep. Kim Sung-tae, who was walking up the stairs in front of the National Assembly building to go to the restroom, and punched him on the chin. After approaching by saying, "My father was also a supporter of the Liberty Korea Party. I came from Busan," the attacker punched the lawmaker all of the sudden. "Is it that difficult for the parliament to ratify the declaration for the unification of the Korean Peninsula?" the attacker shouted when Liberty Korea Party members tried to block him.
It has been identified that the attacker made a statement to the police that he also planned to attack Liberty Korea Party chief Hong Joon-pyo. After being arrested, he threw shoes towards Rep. Sung Il-jong of the Liberty Korea Party at the Yeouido patrol division after the arrest.
It has been said, according to the statement by the attacker, that he changed his route to the National Assembly as he failed to participate in a protest against anti-North Korean activists' campaign of sending propaganda leaflets toward the North, which was foiled by police.
Floor leader Kim, who was sent to an adjacent hospital and discharged from the hospital after getting a neck brace, continued his hunger strike for four days after participating at his party's emergency meeting around 9 p.m. Saturday.
Lawmakers of the Liberty Korea Party defined this incident as "political terrorism against the opposition party" and decided to continue the hunger strike on a relay with 10 people a day. The violent attack led to the cancellation of a planned negotiation on Saturday and Sunday among floor leaders of the ruling and opposition parties while National Assembly Speaker Chung Sye-kyun expressed his concern and urged for a thorough investigation.
hong@donga.com · eunji@donga.com