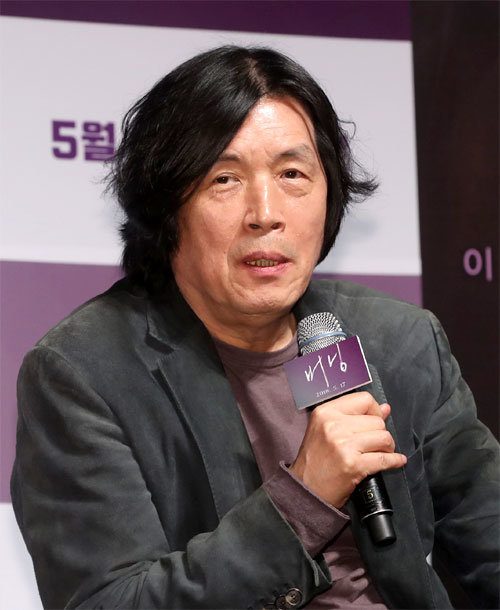 Director Lee Chang-dong has made a comeback in eight years with the movie "Burning." The movie is based on the short story "Barn Burning" by Japanese author Haruki Murakami. It is the only Korean film that has been invited to be presented in the Competition section of the Cannes Film Festival this year.
"Cannes Film Festival is the most effective way to promote Korean films," said Director Lee said at the promotional press conference for the film "Burning" held Tuesday at a movie theater in Gangnam, adding that "It is also a great opportunity for actors." Actress Cheon Do-yeon won the Award for Best Actress at the 2007 Cannes Film Festival for her role in director Lee's "Secret Sunshine." Director Lee's another film "Poet" received the Best Screenplay Award at the 2010 Cannes. "Eight years have passed but I didn't realize that the time is going so fast," said Lee.
The movie depicts a mysterious incident Jong-soo (Yoo Ah-in), a part-time worker at a delivery company, experiences after he meets Ben (Steven Yeon) through his childhood friend Hye-mi (Jeon Jong-seo). Compared to Lee's previous films, this movie has more vague theme and more mysterious mood.
"The movie could be categorized as a mystery thriller. But there is more than that. It deals with the world we live in and the mystery about the movie itself."
"I tried not to think about how old I am as the film is about young people," said director Lee. "I wanted everyone to freely express their opinions and every factor to come alive. I wanted everyone to feel that the movie is making itself, rather than it being made through any goal, plan, or will."
"Even before the scenario came out, I had wanted to work with the director Lee," said the leading actor Yoo Ah-in. Steve Yeon, who featured in Bong Joon-ho's "Okja" last year said, "Director Bong called me and said director Lee is looking for me. This is more than a dream." The movie will be released in local theaters on May 17.
Sun-Hee Jang sun10@donga.com