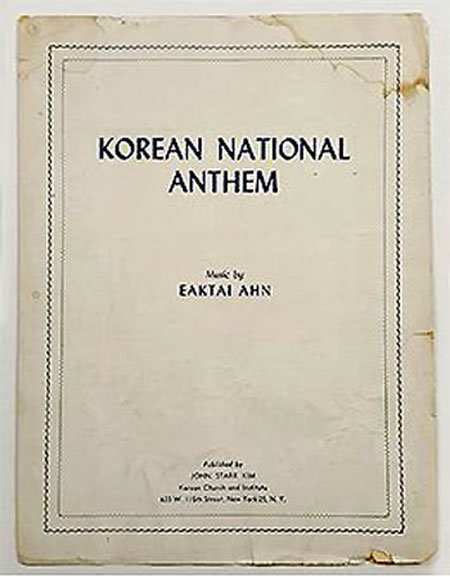 An English version of the Korean national anthem, estimated to be the oldest of its kind, has been disclosed to the public.
The Museum of Korean American Heritage under the Korean American Association of Greater New York said on Wednesday (local time) that it would exhibit an English version of the national anthem created in 1944 by composer Ahn Eak-tai in the United States. Prior to the release, the oldest English version known was the sheet music owned by the National Archives of Korea, which was created in 1956.
The recently released artifact was previously owned by the family of Pastor Kim Keun-young, who lives in Long Island, and donated the piece to the museum, the association said.
On the cover, KOREAN NATIONAL ANTHEM is written in thick letters, along with the name of the composer (Ahn Eak-tai) and publisher (John Star Kim). It also says that Kim was associated with a Korean church, presumably referring to Pastor Kim Jun-sung. The sheet music includes two verses of the lyrics, translated into English.
The Korean National Anthem was composed by Ahn Eak-tai in 1935, who was residing overseas at that time. The Provisional Government of the Republic of Korea used the piece as the national anthem, but it was known as the anthem only outside of the nation. The anthem was used in official government events domestically in 1948, after the official government was established. The music was introduced in school text books and sung across the nation in the same year. Copies of the Korean version of the early anthem have also been discovered in San Francisco. The Provisional Government had also published Chinese version.
Eun-A Cho achim@donga.com