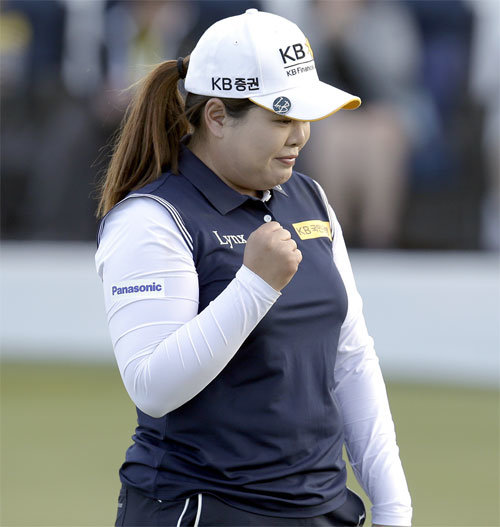 Park In-bee of South Korea, with a successful six-meter birdie on the par-4 12th, started her run of four straight birdies, putting an end to a streak of parring on the first 10 holes. She made a three-meter try on the par-4 13th, a six-meter on the par-3 14th and made a third shot, which allowed her another 1.5-meter birdie. Wearing a poker face throughout the game, the South Korean star wore an easy smile when she posed with her trophy.
It was the grand return of "the queen of golf." Park In-bee finished at 19-under on the 72-par course to win the LPGA's Bank of Hope Founders Cup at the Wildfire Golf Club in Phoenix, Arizona, on Monday. In her final 36 holes, Park did not bogey once, and had five birdies.
The Founders Cup win was her 19th LPGA Tour victory and first in a little over a year. Due to minor back injuries, she played only two domestic events after the Women's British Open in August last year. Monday's victory was her first this season since she returned to the sport at the HSBC Women's World Championship early this month, where she tied for 31st.
Delicate putting was what drove Park to victory. She dropped her putts to 27 and 28 in the third and fourth rounds, respectively. Also, the South Korean golfer switched from a mallet style putter, which she had been using for more than a year, to a blade style putter. "I was getting too used to the mallet style putter, and it doesn't really show mistakes. I wanted to see which way I was missing, what my stroke was doing wrong," said Park. "I've changed to an Anser-style putter at my husband (coach Nam Gi-hyeop)'s suggestion. With this, you can tell much better, and I can see my mistakes and see which putts are the good putts."
With such delicate putting, Park has overcome her weakness of having a carry shorter by over 20 yards compared to long-ball hitters. Shanshan Feng of China, who is currently No. 1 in the Women's World Golf Rankings, also praised Park's putting skills, jokingly saying, "Do you have a GPS in your ball?" The latest game presented a perfect return of Park, who is often called an "assassin in silence" because of her placidness during a play.
"Like many others these days, I'm also caring a lot about a work-life balance. I want to strike a right balance between golf and life in my 30s," said the 29-year-old golfer. "By winning the game early in the season, now I'll be able to play the rest of the tour light-heartedly. I'll focus more on major championships, including ANA Inspiration to be held two weeks from now."
Jong-Seok Kim kjs0123@donga.com