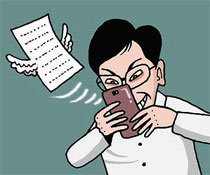 In September 2014, a large number of Koreans flocked to Telegram, an encrypted messenger service with enhanced security, following suspicions over the law enforcement's confiscation of Labor Party Deputy leader Jung Jin-woo's KakaoTalk chats for the Sewol ferry disaster probe. Back then, more than 1 million Koreans registered for Telegram just in one month. The South Korean authorities do not have an easy access to Telegram chats as its servers are in Germany.
Ahn Hee-jung, former governor of South Chungcheong Province, would have downloaded Telegram as well during this "cyber exile." He has been using Telegram's secret chat feature to chat with his secretary Kim Ji-eun, who accused Ahn of raping her. The secret chat function allows messages to self-destruct after they are sent. Senders can set a timer from 1 second to 1 week, which will kick in when the message is viewed on the recipient's screen. It also provides a screenshot alert feature. The law enforcement cannot see the chat room even if it confiscates the server. This is why politicians and criminal groups often use Telegram.
Telegram is a non-profit mobile messaging service created in Germany in 2013. It was founded by Russian brothers Nikolai and Pavel Durov, who previously started Russian social network VKontakte, to stand against the Russian government's censorship. Telegram regularly holds a hacking contest offering hundreds of millions of won, but no one has hacked into the service yet. In Iran, the Islamic theocratic state, some 40 million people, half the population, use Telegram. Iran used to allow Twitter and Facebook, but eventually banned the services when they were used by antigovernment protesters in January.
Former Governor Ahn would have thought his "secrets" would be kept if he chatted with the victim on Telegram. Most of the messages he sent to the victim actually disappeared because of the self-destruct timer feature. But some of his messages are sent out of the secret chat room, which are now showed to the world. Those messages on Telegram, the most secure messaging service in the world, have become circumstantial evidence of his crime. Secrets are made to be revealed even with the newest technology and enhanced security.
Se-Jin Jung mint4a@donga.com