It was 8 p.m. on Saturday night, Jan. 27, 2018 at the Barbican Art Gallery. There was a dead silence in The City, the financial and commercial heart of Britain, where the Barbican Art Gallery is situated. But as we approached the gallery, it was packed with people from all walks of life including students, families and the elderly in the wheelchair. They were all queuing up for the exhibition Jean-Michel Basquiat retrospective Basquiat: Boom for Real, the first large-scale show held in Britain. What we heard from the ticket booth was "it is sold out now and you can enter from 10 p.m." The day before the exhibition closed, the Barbican was open until midnight.
Jean-Michel Basquiat was born in 1960 in Brooklyn, New York City. He dropped out of school in the tenth grade and began spray painting buildings in Lower Manhattan. He emerged and earned fame as a graffiti artist, under the pseudo name of SAMOⓒ. He had been acclaimed as a wildly talented artist who took graffiti to a new level of art before he died at the age of 27.
The exhibition featured Basquiat's artworks along with postcards, notes and other ephemera to walk visitors through the real life of the graffiti artist-turned-painter. The show focused on showing his profound insights by displaying books owned by him. In his library were The History of Art by H.W. Janson, Grey's Anatomy, African Wall Painting and Leonardo Da Vinci.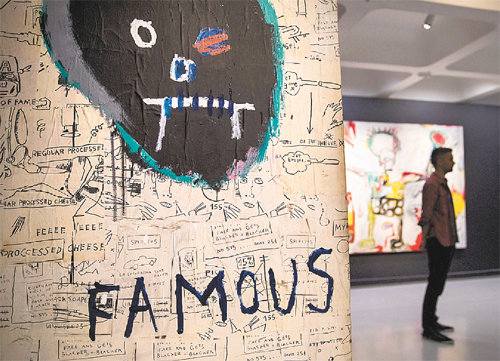 It is noteworthy that the extremely popular exhibition was held at the Barbican Art Gallery. The gallery is a public art center run by the municipal government of The City district in London. The exhibition was staged not just for popularity but for the public interest, aimed at adding cultural value obtained by people, especially, young artists when they were given opportunities to encounter new culture. "We are thrilled that the show has become the most successfully attended exhibition in the Barbican's history. We are delighted that a new generation has been able to see his work in the flesh," said Jane Alison, the center's head of visual arts.
Jeon Ha-hyeon, an art historian who runs a culture school called RP institute in London, has also noticed a changing trend in British exhibitions. "In recent years, Britain has seen a sharp increase in the number of 'creative industry' exhibition, which creates profits by opening shows, as well as 'communicative' exhibition, which allows the general public to have access to art exhibitions," said Jeon. "Public art museums in Korea should seek ways to expand audience base, going beyond academic roles."
Min Kim kimmin@donga.com