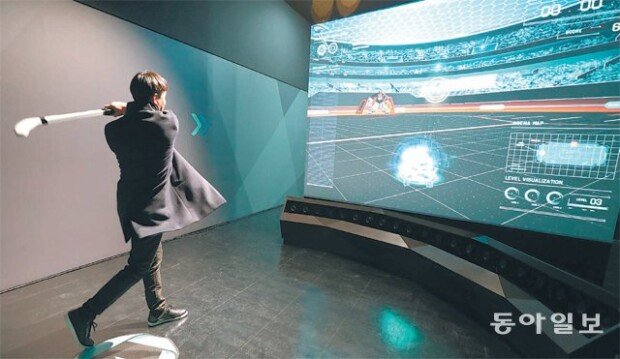 At the ice hockey shooting game venue within the KT 5G exhibition space located in Gangneung in Gangwon Province on Wednesday, this reporter faced a goal keeper one-to-one in front of a 3.5-meter wide large-sized screen. When swinging a stick attached with a motion senor towards a virtual puck (hockey ball) in the middle of the screen, the puck flew into the screen realistically.
In the 5G time slice demo zone right next to the game venue, the screen showed a still scene of swinging a stick, moving in 90 degrees. Scenes taken by 21 multi-cameras installed in the game venue revealed themselves in a single scene, allowing a scene taken in various angles like the movie "Metrix." A new technology called "time slice," which implies slicing time, was mobilized.
On the same day, KT opened "5G connected" experience hall in the Gangneung Olympic Park where stadiums for the PyeongChang Winter Olympics' ice events were concentrated so that ordinary citizens can experience realistic media. The experience hall, which is about 10,000 m², was established in the shape of a pentagon, which symbolizes 5G.
KT has been preparing 5G service since it declared to make the PyeongChang Winter Olympics a public arena to introduce the world's first 5G demonstration service at the Mobile World Congress in March 2015.
"PyeongChang 5G" standard, participated by global partner companies such as Intel and Samsung, was completed in 2016, and 5G data communication based on the world's first 5G common standard was successful. In February and October last year, KT finished 5G field test and 5G network and terminal integration test, respectively. Samsung Electronics developed a terminal (tablet) that supports 28Ghz band, which is the candidate for frequency, for the first time in the world to provide 200 terminals in Gwanghwamun, Seoul and the 5G experience hall in Gangneung.
KT made various preparations to provide a completely new kind of media experience at the PyeongChang Winter Olympics. It installed a micro-small camera at the front of a bobsleigh to share the speed, which runs 130 kilometers per hour. It also attached a GPS chip on the cross-country athlete's apparel, and installed cameras all over the 3.75-kilometer course to show the movement of athletes according to their routes. The 360 degrees VR, which can depict the bench and interview bench, makes people feel as if they are watching games at the stadium.
"We will able to demonstrate 5G Olympics in Pyeongchang, which is two years ahead of the 2020 Tokyo Olympic Games," said Oh Seong-mok, president of KT's network business. "Now, people will be able to enjoy the game fully even outside of the track with 5G realistic service."
Dong-Jin Shin shine@donga.com