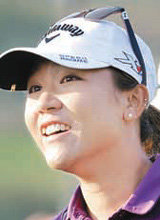 Lydia Ko (18) has reclaimed No. 1 spot in the global rankings. At the fourth round of the LPGA Fubon Taiwan Championship held at Miramar Country Club (par 72) in Taipei, Taiwan on Saturday, Ko garnered one eagle and six birdies and made one bogey to reduce the number of pars by seven and post 20-under 268 overall, and rose to the top place. She crushed Ji Eun-hee and Ryu So-yeon, who tied for the runner-up, by a nine-par difference.
Ko, who had become the youngest golfer in both men and women to rank No. 1 in the world by securing the runner-up at the Coates Golf Championship in February, was outpaced by Park In-bee in June, but has regained her World No. 1 spot in 20 weeks. Securing her fifth win this season, she has become the youngest player (18 years, six months and one day) in LPGA history to win 10 titles, occupying top spot in all the lists such as prize money, multiple wins, the Player of the Year award, and average pars for this season. She is younger to achieve the feat than Tiger Woods, who holds the record of being the youngest player (age 23) to win 10 titles in the U.S. PGA tour.
Ko is set to compete for personal titles with Park In-bee, who failed to participate in the latest event, when they participate together in upcoming tournaments in China, Mexico and the U.S.
kjs0123@donga.com