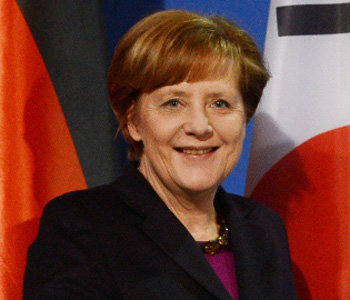 The plan that President Park Geun-hye would take part in China's "commemoration event for war victory but not attend its military inspection" scheduled for the next month has many things in common with the decision of German Chancellor Angela Merkel (photo) who participated in the celebration event for the Russia's war victory.
Many leaders of western countries were invited to the 70th anniversary event on May 9 that Russia had ambitiously prepared for but few attended the event. The biggest reason was that Russia was under sanctions due to Ukraine mayhem. It must have been uncomfortable for them to be part of a military inspection that boasts Russia's military power with state-of-the-art weapon at the Red Square even though the Cold War was over. Korea also joined the move by sending Yun Sang-hyeon, President's special advisor for national affairs, as an envoy instead of President Park.
Chancellor Merkel, however, sought "the third way." She arrived in Russia a day after the military inspection (May 10) and had a meeting with President Vladimir Putin. Placing a wreath at "the Tomb of Unknown Soldiers" at the Red Square where the inspection took place a day earlier, she paid tribute to Russian soldiers who sacrificed themselves in the war between Germany and Russia. Joining the move of "military inspection boycott" with the heads of G7 nations and still taking care of national sentiment as the head of the nation that was involved in the war, she successfully found "superb intersection."
The two female leaders, President Park and Chancellor Merkel have shared special relations since they met in October, 2000 when Park was vice-president of Grand National Party and Merkel was leader of Christian Democratic Union.
shcho@donga.com