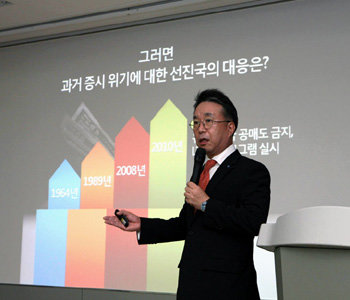 "Stock prices can be compared to a dog, and the economy to the dog's owner. Even if the dog jumps up and down and barks, sometimes trying to get away from the owner, it eventually goes in the owner's direction. China's stock markets will likely continue to rise along with the development of its economic fundamentals."
Seo Myeong-seok, CEO of Yuanta Securities, told the audience of a seminar in the Korea Exchange building in northern Seoul on Wednesday, "The current situation in China can be seen as a tempering process for the development of capitalism in the country," adding, "It is a time to invest in China's markets based on a belief on the growth potential of the Chinese stock markets."
Seo volunteered to host the seminar to deliver his opinion on the Chinese stock markets that have been roller coasting since June. The Taiwan-based Yuanta Securities entered Korea last year by taking over Tongyang Securities, and believes it's the only securities firm operating in Korea that specializes in China investment.
Seo analyzed that the recent instability in Chinese stock markets is due to the practice of wrong credit transactions rather than the problem of fundamentals. He argued that though the markets could repeat ups and downs, in the longer term they will keep up growth. He said, "If the Shanghai Composite Index's trough point is estimated at 3,500, it can rise to 4,500 in the short term and to 6,100 in the long term."
On Western media criticizing Chinese government's intervention in stock markets as "financial communism," Seo said, "In the 1960s, the Japanese government created a stock market stabilization fund to buy out 5.1 percent of the total market capitalization, and the U.S. at the height of the financial crisis in 2008 banned short stock selling and supported individual companies with bailout funds," adding, "The current situation should be seen as the Chinese stock markets, which has just 35 years of history, experiencing growth pains."
Seo also said the growth of capital markets should be judged by market capitalization rather than stock prices, adding, "Even while the Chinese stock prices repeated ups and downs, total market value continued to increase and is now at a record 30 trillion yuan (4.8 trillion U.S. dollars)."
"China is a market that can't be abandoned considering the overall Chinese economy," Seo said. "At this point, it is necessary to, rather than affected by stock prices, find stocks that can lead growth."
jaj@donga.com