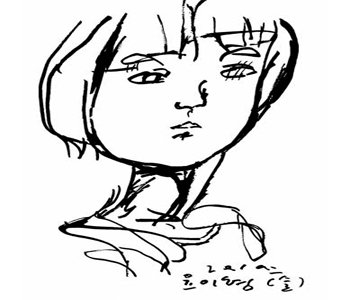 "Other poets, when drawing caricatures, look at several snap photos and integrate images. I didn`t need to look at photos because I have my daughter`s face embedded in my mind."
Lee Je-ha, a painter, novelist and poet, has drawn some 280 pieces of caricatures of award winning authors since 1997 when the first Poet Caricature and Moonji Literature Award was held. Recently, he drew a piece of caricature of his daughter Yoon Yi-hyung, who was an award winner of the fifth Moonji Literature Award with her novel "Luka" that portrays homosexuality.
Yoon in the caricature is described as having a young, round face and short bobbed hair. Lee said, "Round face and small lips are an image embedded in by minds since she was young. Her forehead is a mix of that of me and my wife."
When asked whether he drew his daughter too young even as she`s soon reaching age 40, Lee said, "My daughter looks younger than others of the same age. I could have drawn one or two more lines around her lips and nose, but I didn`t want to do that."
On her father`s drawing, Yoon said, "I think he drew me prettier than I am. I will become a better writer." She started her literary career in 2005 and has novel collections of "Waltz for the Three," and "Big Wolf Blue."
Moonji Literature Award`s prize money is 10 million won (9,269 dollars). On the day he drew her daughter`s caricature, Lee wrote on his Facebook a story about a female novelist who received 50 million won (45,846 dollars) in prize giving her father just 150,000 won (137 dollars), adding jokingly, "(Will she) give me money to buy a cigarette now." Yoon said, "I laughed for a long time after seeing what he wrote."
Moonji Literature Award ceremony opens at 5 p.m. on Friday at a Seogyo-dong resident`s center in northern Seoul.
tigermask@donga.com