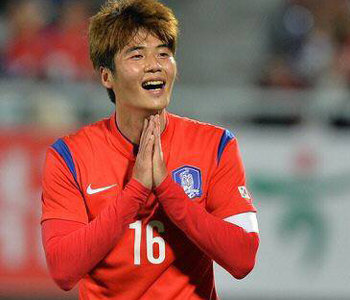 As Ki Sung-yeung, 26, received a surgery to remove bone fragment in his right knee and is thus set to refrain from playing, national team Coach Uli Stielike will have to agonize over the team's roster ahead of the World Cup qualifiers. Coach Stielike should find Ki's replacement who will play in the match against Myanmar, the first game of the second round qualifiers for the Asia region for the 2018 World Cup Russia, which takes place in Bangkok, Thailand on June 19.
Ki will need about two to three weeks to recover from the surgery. He may be able to recover before the match against Myanmar but he will unlikely choose to overburden himself by prematurely playing after the surgery. He will be able to play the home game against Laos, a second round qualifier for the World Cup that will take place on September 3.
Hwang In-woo, head of the medical support team at the Korea Football Association, said, "As bone fragment was simply taken out, he will be able to immediately start exercise to strengthen his muscle as soon as surgery injury heals," adding, "It is a small surgery, but since he had been suffering pain for long, he will need time to recover."
Midfielder Ku Ja-cheol (Mainz) and Kim Bo-kyung (Wigan Atlantic), who are considered leading candidates as Ki's replacement, are also taking a four-week basic military drill from end-May to benefit from special exemption of compulsory military service for their contributions to Korean sports. Hence, Lee Jae-seong (Jeongbuk), and Kim Eun-seon (Suwon) are emerging as candidates for Ki's substitute. KBS soccer commentator Han Joon-hee said, "Thus far, Stielike formed a set with Ki and Han Koo-young (Qatar SC) and let Han take charge in defense and Ki coordinate offense. If he forms a set with Lee Jae-seong and Kim Eun-seon, who are regarded as all-round players armed with both offense and defense capabilities, they could be better in terms of stability and operational tactics, although they may not be as high profile as Ki."
elegant@donga.com