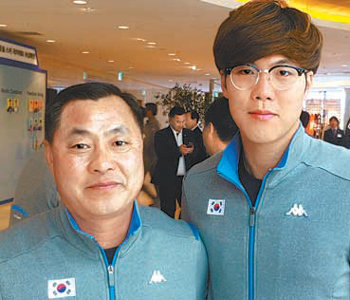 A father and his son have become the first in Korea to become national team members as coach and athlete in winter sports.
They are Park Je-eon, 22, an athlete of Nordic combined, and coach Park Ki-ho, 52. They told reporters at "Skiers' Day" event at Lotte World Hotel in Seoul on Thursday, "We feel strong responsibility as the father and the son serving first as coach and athlete of the national team."
To prepare for the 2018 Winter Olympics in Pyeongchang, the Korea Ski Association formed the national Nordic combined team with athletes who were deemed to have growth potential from the ski jump team in 2013. Nordic combined is a sport in which cross country and ski jump are conducted simultaneously. The association picked the senior Park, who served as coach and member of the national cross country team, as the coach for the national Nordic combined team, a position that remained vacant for two years due to lack of a qualified coach.
Park Je-eon had the cherished goal to become a Nordic combined athlete when he first started skiing. As a cross country athlete, he was dubbed "cross country sensation" with winning triple crowns in the 2006 Korea National Winter Sports Festival. The junior Park changed his sport to ski jump in 2008 to gain more experience, before settling down in Nordic combined. "My father has helped me to perform both cross country and ski jump since 10 years ago in order to enable me to play Nordic combined," he said.
Nordic combined is an unpopular sport. There are only two players of the sport in Korea including Park Je-eon and Kim Bong-joo, 22. There has never been a competition. However, Park said, "Due to Asians' physical characteristics, it is difficult for Asians to win an Olympic medal in cross country. However, a Japanese athlete won a medal in Nordic combined. We also can do that."
Coach Park said, "I will never give special treatment to him just because he is my son. Je-eon is just an athlete in the national team. However, I have huge burden on his performance. Because my son is right by me, I use extra caution whenever acting and talking," while the son said, "I somewhat feel burden because I have no choice but to hear my father's preach not only at home but also during training. However, training is easier because we know very well each other."
The goal of the father and the son is to secure a berth to the 2018 Winter Olympics in Pyeongchang. They lack experience in international competitions and have yet to find a ski jump coach, but they seem to deserve a medal when only considering their strong commitment and self-confidence. "If I trust my father and follow his instruction well, I think nothing is impossible." Upon hearing his son, the coach said, "I have set up a plan through 2022. Please don't worry."