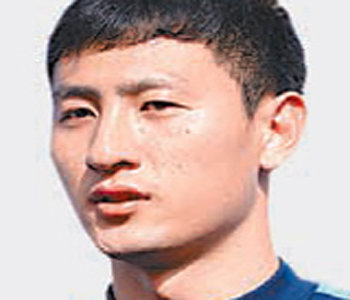 Ji Dong-won (24, FC Augsburg) was dubbed "post-Park Chu-young" five years ago. As soon as he made his professional debut by joining the Chunnam Dragons in 2010, he scored 10 goals, drawing massive attention. In the next year, he moved to Sunderland, and became the eighth Korean player playing in the English Premier League. He continued strides at the Korean national team by scoring eight goals in 11 matches through September 2011. Since a match against Lebanon in September 2011, however, he has had no goals for a long time. He has spent more time sitting in the bench than playing in matches in his pro team as well.
On Tuesday last week, the day when the national team was assembled anew, Ji said, "I had a period of suffering, but I have become stronger during that period." Ji had more chances to play in his pro team in recent months, and rejoined the Korean national team for the first time in nine months.
Korea will play an exhibition game against New Zealand at the Seoul World Cup Stadium at 8 p.m. on Tuesday. New Zealand, which is standing at 134th in the FIFA rankings, is lagging far behind Korea (56th), and has been completely inferior to the latter, by posting one draw and five losses in the past matches. Most New Zealand players are playing in the country's pro league, and eight players who are playing overseas leagues are affiliated with secondary or tertiary league teams.
If Ji scores in the match against New Zealand, he will be able to deeply impress Coach Uli Stielike. Ji said, "I don't know how long I will play at the match against New Zealand, but I hope to score without fail when I have a chance." Stielike said, "I am satisfied with Lee Jeong-hyeop's performance thus far. I want to give a chance to Ji Dong-won playing in the same position as Lee. In return, Ji must display performance demonstrating his immaculate finishing skills."
creating@donga.com