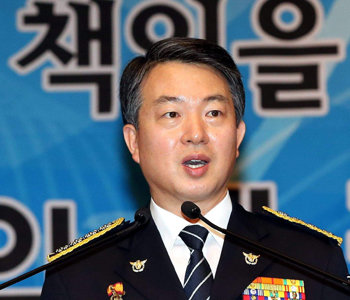 Police is set to introduce uniforms with the Korean national flag, following suit of the military. "We are positively considering attaching Taegeukgi on police uniforms," Kang Shin-myung, the National Police Agency Commissioner General, told a press meeting on Monday. "We will be choosing to attach the flag if at all possible."
The military on Thursday last week reported to President Park Geun-hye a plan to change its uniform system that Taegeukgi is attached to all types of uniforms for the Army, the Navy and the Air Force. After the Dong-A Ilbo's reporting on the news, police have also been proactively considering introduction of "Taegeukgi uniforms."
"We plan to change police uniforms from next year, after marking the 70th anniversary of the establishment of Korean police this year," Commissioner General Kang said. "We will examine to what extent we will be able to replace uniforms (with Taegeukgi uniforms)." Police internally judge that they would be able to start attaching Taegeukgi on mobile operation uniforms that police officers wear when engaged in outdoor activities including suppression of demonstrations. Chances are high that for other uniforms, Taegeukgi will be introduced starting next year, when the uniform system will have changed.
Police plan to improve next year the design of a total of 31 uniforms comprising 13 types, including official uniforms, top and pants of working uniforms, and jackets. "Many foreign countries attach their national flags to police uniforms," the police commissioner said. "Korean police could also attach Taegeukgi from a broader perspective."
jmpark@donga.com