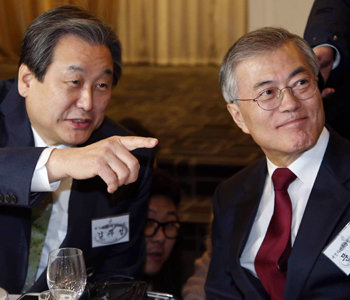 Rep. Moon Jae-in, chairman of the main opposition New Politics Alliance for Democracy (NPAD) who declared an all-out war against the Park Geun-hye administration, asked President Park to apologize for the allegation that the National Intelligence Service had intervened in the presidential election on Wednesday. Two days ago, Won Se-hoon, former chief of the National Intelligence Service (NIS), was sentenced to prison terms for violation of the Public Official Election Act in the second trial.
"The ruling confirmed that the NIS strategically intervened in the presidential election. Although it happened under the Lee Myung-bak administration, President Park should rightly apologize for this," Moon said in the party's senior members' meeting on Wednesday. "President Park rather criticized me when the NIS's intervention was revealed during the presidential election, saying, `It's a plot devised by the Moon Jae-in camp and a human rights violation of the NIS's female employee.` As the president tried to hide truth and blocked prosecutors' investigation after the inauguration of the administration, President Park should clarify her position."
Moon did not make an official response on Monday when the former NIS chairman was sentenced. Back then, he said, "I'll focus on people's livelihood and the economy, and will leave political issues such as the former NIS head's case to the party." However, Moon said on Wednesday, "I'm cautious about talking about this issue but as the chief of the opposition party, I am supposed to mention this important matter."
Yoo Eun-hye, the NPAD's spokesperson, said, "He does not mean that he will continue making the NIS's election intervention case a political issue."
Meanwhile, Moon visited Lee Hee-ho, the widow of former President Kim Dae-jung, with the party's senior members on Wednesday. It appears to be a reconciliatory gesture for Rep. Park Jie-won who lost in the election for the party's leader position, and the residents of Jeolla provinces. Mrs. Lee had visited Park' camp to support him near the end of the race. She said to Moon, "You have really heavy responsibilities. As you said, please do your best for reconciliation and integration." Moon said, "I'll do my best so that you don't need to worry about it. I've discussed with senior members to start with organizing the party for grand harmony."