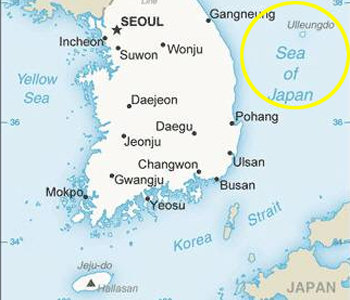 The Foreign Ministry has found that the Dokdo islets are removed from the map of Korea in the World Factbook published by the CIA. The CIA World Factbook is an authoritative source cited by many global organizations.
As of Monday, the World Factbook on the CIA's website (www.cia.gov) shows a map of the Korean Peninsula on Korea page. It indicated "Ulleungdo" in black on the map while the Dokdo islets were nowhere to be found. The page was last updated on June 20, 2013. Meanwhile, the map of Japan, which was updated on the same date, had an island in the location of Dokdo islets with the name "Liancourt Rocks."
The CIA had indicated the "Liancourt Rocks" for both the map of Korea and Japan with an explanation that both Korea and Japan claim sovereignty over the Liancourt Rocks, which were occupied by Korea in 1954. However, the updated version deleted the islets and even the name in the map of Korea. Meanwhile, the map of Japan displays the islets with the name so that anyone who sees the map would get a wrong impression that Dokdo islets belong to Japan.
If the CIA's update had been intentional, it could have been lobbied by Japan, which claims sovereignty over the islets calling them "Takeshima." Seo Gyeong-deok, a professor at Sungshin Women's University, said, "The map published by the U.S. eventually becomes the global standard and it appears that Japan's efforts are focused on changing this. There should be appropriate actions such as finding what caused the deletion of the islets and calling for an explanation."
The Foreign Ministry did not respond properly. "We learned that the Dokdo islets were removed from the map on the Internet at the end of last year. So we asked Washington what caused the change and its future direction," the ministry said on Monday even though the map was last updated on June 20, last year over the Internet. It admitted that it found the change six months later.
The CIA indicated East Sea as "Sea of Japan" on both the map of Korea and Japan again. The Foreign Ministry said, "We're requesting the CIA to correct the 'Sea of Japan' as well."