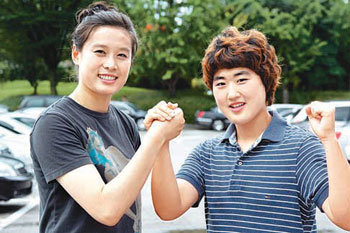 "The Korean women's national soccer team had a better performance than the men's team."
Women soccer players have good reason to feel confident. Korea finished third at the FIFA U-20 Women's World Cup in Germany Sunday, the best result for a Korean team male or female at a FIFA-sponsored tournament.
The under-20 women enjoyed many interesting episodes and hot topics of conversation at the event. The most notable players were goalie Moon So-ri (left), 20, and Kim Na-rae (right), 20, who scored a goal with a powerful mid-range shot against Ghana.
The Dong-A Ilbo interviewed the two players despite their hectic schedule after their return to Seoul Wednesday.
○ Amazed over newfound public attention
The biggest change for the two is public attention. On the day they left for Germany, only their relatives saw them off at the airport. Looking at the players clad in red uniforms at the time, some people even asked if they were members of the Red Devils, the cheering squad for the national men`s team.
On the day of their return, more than 400 fans and reporters flocked to the airport. Amid the flurry of public attention, the players simply expressed their response with the word "perplexed."
Moon said, "I have some fans now and some people recognize me in public places. I anticipated a glorious day like this but I never expected it to come so soon."
Kim said, "I think we`ve had more interviews after the tournament than before. I took a cab and the driver recognized me. I was totally surprised."
○ Accepting responsibility for past poor performance
Would the team have felt regret because it received no attention before? Unexpectedly, Moon and Kim said it was natural.
Korean women's soccer teams have previously performed poorly and failed to draw attention, they said. Well aware of the situation, they said they only focused on training after the team was assembled in August 2008 but dreamed of success.
"I think few people knew that our team was in the tournament," Moon said. "We`d been training since 2008 but no one was interested. It was natural because we performed poorly. With the success of this past event as a turning point, we hope the public pays more attention to women's soccer. If that happens, we`ll have to perform better."
○ Worry over `bad` Web posts for appearance
Goalie Moon was nicknamed a "good-looking player" by netizens. Kim said smiling, "I didn`t know So-ri was pretty and I now recognize her as such."
Looking happy rather than unhappy, Moon said, "I worried if netizens would post derogatory Web comments because people say I am pretty, though I`m not."
Moon started playing goalie in the ninth grade. She has had a goalkeeping coach for just one year and trained alone the rest of the time.
She says she is grateful to her mentor, none other than goalie Iker Casillas of World Cup champion Spain. "Watching videos of him play, I learned many things," she said.
On why she likes Casillas, Moon said, "Because he`s good looking."
○ Beginning of advancement
The U-20 Women's World Cup is over but players must prepare for a domestic competition that opens soon. They wish to rest but have much more to achieve.
Moon and Kim both said that when they return to the team, they want to show what they experienced at the World Cup to teammates or fans.
The two players said they had no time for boyfriends because they focused solely on training for the World Cup, adding they never thought about giving up soccer.
On what their next goals are, they urged the public to keep watching women`s soccer, saying they will make a bigger splash in the future.
creating@donga.com