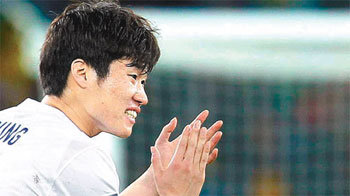 High expectations have again been heaped on midfielder and national soccer team captain Park Ji-sung (Manchester United).
South Korea will face two-time World Cup champion Uruguay in the first game of the tournament`s knockout round Saturday at Nelson Mandela Bay Stadium in Port Elizabeth, South Africa.
The Taegeuk Warriors, who have advanced to the second round of the World Cup on foreign soil for the first time, have set a new goal of reaching the quarterfinals.
The players are renewing their commitment in unison, saying they can even reach the semifinals.
Captain Park is the source of such confidence. The first Korean to play in the English Premier League, he is the leader of the team.
Park has always been confident, saying, "Things are not over yet," regardless of win or loss and has constantly produced good results. His comments have touched the hearts of his teammates.
The United star is leading the team through "high-end leadership" since he became captain in October 2008.
The national team had a campaign among its players to benchmark Park at one point. As Park would habitually say "because…," certain players also did the same. Park's attitude of thorough self-control and concentration also grew contagious to the point that the players deeply trust him.
Younger players such as Ki Sung-yueng (Celtic), Lee Chung-yong (Bolton) and Park Chu-young (AS Monaco) have said in unison, "Older brother Park is truly trustworthy."
It was none other than the veteran who helped the national team recover its confidence after a 4-1 defeat versus Argentina in its second group game. "We still have a game to play. We can win the game," he said to cheer up his younger teammates.
After overcoming the shock of the crushing defeat, the squad regained confidence and drew with Nigeria 2-2 to advance to the second round.
Park said, "I`m not fully satisfied with the current achievement (second round)," indicating his strong desire to make the quarterfinals or beyond. This is just like his mentor and former national team coach Guus Hiddink, who said in 2002 after the team made the second round for the first time, "I`m still hungry (for wins)."
"Our players run more than other teams in games. We`ve played three games but we can still run nonetheless. We can do it," Park said.
Uruguay is 4-0 against South Korea in the World Cup, with the first game between both teams being a 1-0 win by the South Americans at the 1990 World Cup.
yjongk@donga.com