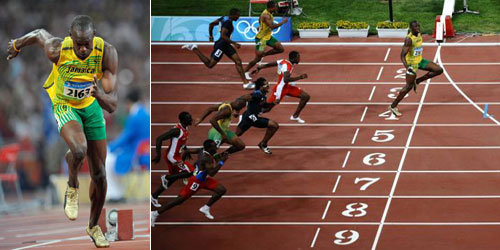 In March 2004, Tokai University professor Chiaki Miyakawa, Japan's famous short sprinter, was teaching promising Korean short-distance runners. He made a surprising move by telling them to sprint 300 meters 20 times.
Most of them could cover 200 meters at most, so 300 meters was considered a long distance and none of them finished it.
Fast forward to Feb. 22 last year. Usain Bolt, the world record holder in the 100 and 200 meters and three-time Beijing Olympics gold medalist, won the 400 meters with a time of 45.54 seconds in Kingston, Jamaica. Bolt said he trains for the event to prepare for races.
The wunderkind will compete in the 400 meters again at Jamaica's National Stadium in Kingston Feb. 14. The event is not one of his specialties, but it will be his first race since the IAAF World Athletic Final in September last year.
His personal best in the 400 meters of 45.28 set in 2007 is far short of the world record of 43.18, but Bolt says he wants to compete in the event as a means of training for the 100 and 200 meters.
Seong Bong-ju, a specialist in exercise physiology at Korea Institute of Sports Science, said, "Training methods include the principle of overload. If you can sprint 300 and 400 meters, you can run 100 and 200 meters easier."
Professor Miyakawa said, "If you want to cover 200 meters, you can set a record only when you can sprint more than 300 meters."
This is understandable in the case of Bolt, who set a world record of 19.19 at the 200-meter final of the IAAF World Championships in Athletics in Berlin last year.
He celebrated his win by running dozens of meters after passing the finish line while other competitors were exhausted.
Bolt seemed as if he could have sprinted another 200 meter. He also holds the world record of 9.58 in the 100 meters, earning the title of the fastest man on the planet.
Eight-time world champion Michael Johnson of the U.S. also showed that training in the 400 meters is necessary for short sprints. With his strongest event being the 400 meters, he shocked the world by setting a then world record of 19.32 at the 200 meters in the 1996 Atlanta Olympics.
Bolt broke that record in the 2008 Beijing Olympics Games with 19.30. As such, training for longer distances is important to short sprinters.
Another reason for Bolt's development is training on grass. The tracks of the High Performance Training Center of Jamaica's University of Technology, where the island country's athletes practice, are made of grass. Bolt trains on the grass track then moves to the track for athletes.
Seo Mal-gu, a former coach who traveled to Jamaica to help train the Korean short-distance sprinter team, said, "Since grass is uneven on the surface, it helps the development of small muscles in feet and legs. Grass is also soft on the surface, making it harder to train on and more effective for training."
yjongk@donga.com