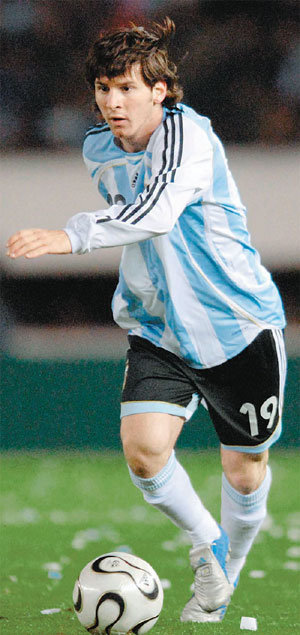 Argentina soccer coach Diego Maradona began his county's World Cup qualifying campaign in November last year and pledged a world title, but his team's performance has been lackluster.
The South Americans were on the brink of disqualification after suffering successive defeats against Ecuador, Brazil and Paraguay.
Argentina barely advanced to the World Cup but questions arose over its capabilities. Lionel Messi (FC Barcelona), whom Maradona proclaimed as his successor, Carlos Tevez (Manchester City), Gonzalo Higuain (Real Madrid), and Sergio Aguero (Atletico Madrid) are among the world's best players, but their performances for the national team have fared below expectations.
Why have they fared poorly for their national team? A comparison with Argentina's rivals provides the answer.
Experts say team chemistry is the problem. KBS soccer commentator Han Joon-hee said, "Brazil has the best combination of players. It has Kaka, who controls a game with his accurate passes; Robinho, who gives opponents fits with his spectacular skills; and Fabiano, who score goals by taking advantage of his good physical condition. On the contrary, Argentine strikers are similar in their movements."
MBC soccer analyst Seo Hyeong-uk agreed, saying, "Players of short stature are the mainstay of the Argentine offense. So when a game doesn't go well, no one can lead the way upfront."
Lack of capable midfielders is another reason for Argentina's failure to take advantage of its strikers` strengths.
SBS Sports commentator Shin Yeon-ho said, "Spain has many aggressive midfielders who can make quick and precise passes such as Xavier Hernández, Andrés Iniesta and Cesc Fabregas. Argentina lags behind in this regard, however. Strikers are often been isolated in the front."
KBS analyst Kim Dae-gil had a different opinion, however, saying, "Argentina's problem lies in a weak defense instead of offense. Its weak defense puts a strain on strikers in every game."
He also blamed Maradona's lack of ability as a coach, saying, "Brazil coach Dunga and Spain coach Vicente Del Bosque can make full use of tailored tactics. Maradona, however, cannot do this, which led to poor performances from his strikers."
niceshin@donga.com