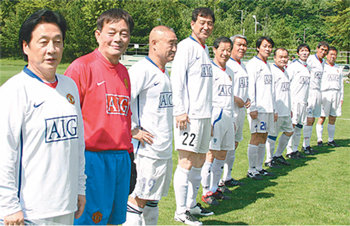 At the National Football Center in Paju, Gyeonggi Province, yesterday, a friendly soccer match was held between Royal FC and Bupyeong FC, whose players are age 60 or older.
Kim Jae-han, 62, vice chairman of the Korea Football Association, scored a hat trick to the cheer of other players. Former association vice chairman Lee Hwoi-taek joked that Kim was still at his prime, to which Kim responded by offering to buy him lunch.
Lee participated in the game despite having to leave for the United Arab Emirates as the leader of the national team for a World Cup qualifier against the Arab country.
Established in May 2005, Royal FC consists of former players from the 1960s and 70s and several senior amateurs. Association chairman Cho Chung-yun, his high school friend Choi Jae-ik, Lee and other avid soccer lovers created the club.
Royal FC is divided into two teams – one consisting of 31 players in their 50s and the other of 30 players in their 60s. They go play matches across the country.
The team of 60-something players is undefeated since its establishment, winning 169 straight games including a 7-0 victory against Bupyeong yesterday.
"We just cannot beat the team because it consists of the best players of their times," said Bupyeong adviser Yoon Dol-yong, 67. "Though we were overwhelmed by them, we are just pleased to have played a game against old-time heroes."
Royal FC also beat Friends, a team of actors and singers in their 30s and 40s, 2-0, in a friendly match.
Royal FC is also internationally renowned, having won the Senior World Championships in 2007 and this year. The championships are an international competition in which 14 countries participate. The team also won the World Koreans Festival last year, beating 23 teams.
Royal FC plays every weekend. They play three to four hours a day and eat watermelons, bananas, pumpkin soup and tofu.
"While playing, I feel as if I were back in the old days," Kim said. "I feel 20 years younger when I score a goal and do a high-five."
Coach Seo Yoon-chan, 69, who was one of Asia's top players in the 1960s, said, "I play soccer when I don't feel well, and I feel so refreshed. Soccer reinvigorates me."
Also among Royal FC members are Hwang Sun-hong, 41, coach of the K-League team Busan I-Park, Hong Myung-bo, who leads the national under-20 team, and Kim Jae-bak, 55, manager of the pro baseball team LG Twins.
yjongk@donga.com