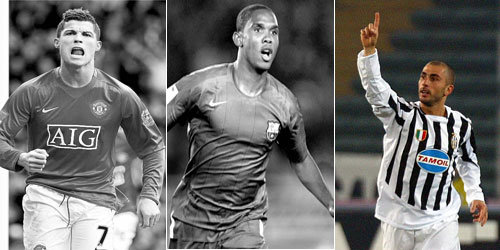 "The runner-up to the top scorer is covered in a two-line news article, but the top scorer is a lifetime honor."
This is how Seongnam Ilhwa coach Shin Tae-yong, who once led the domestic K-League in scoring, described the significance of being the league`s top scorer. Being the player who scores the most goals in a season is soccer`s top honor.
Being top scorer in the European leagues holds immense value. A top scorer enjoys not only enhanced status but also increased financial value. A do-or-die battle for the title is being fought in the top three European leagues. The gap between the top and second-ranked players is only one goal.
With the champions of each of the three leagues pretty much determined, the feverish race to become the league`s top scorer is being closely watched.
In the English Premier League, Cristiano Ronaldo (Manchester United) is seeking to lead the league in goals for the second straight season. He performed poorly early in the season, but regained his scoring touch from midseason to secure the top spot last month.
Ronaldo leads with 18, just one ahead of Nicolas Anelka (Chelsea). Anelka, who scored a flurry of goals early in the season, has had a hard time finding his niche after Guus Hiddink took over as coach. He heralded a sign of revival in a recent match versus Fulham.
Anelka scored for the first time in 10 weeks in the match before adding another in a 4-1 win over Arsenal Sunday. KBS commentator Han Joon-hee said, "Ronaldo is in a more advantageous position since he has one more match left than Anelka, but it`s difficult to predict the winner since Anelka is also in good condition and good at scoring in bunches."
In Spain's Primera Liga, Samuel Eto'o (Barcelona) is the leading scorer with 28 goals, but catching up quickly is Diego Forlan (Atletico Madrid).
In the 2004-05 season, Forlan led the league with 25 goals as a member of Villarreal. This season, he has narrowed his goal deficit versus Eto'o to one goal from as many as five.
Also in the running is David Villa (Valencia) with 25 goals. Villa lost the top scorer title to Eto'o by one in the 2005-06 season.
In Italy's Serie A, the reemergence of a 33-year-old veteran striker traded from Genoa has become a hot topic. Marco Di Vaio of Bologna has scored 22 goals.
He was forgotten by fans due to a chronic slump that began in 2002, but has made a triumphant comeback by scoring nearly half of his team's goals this season.
"Scoring machine" Zlatan Ibrahimovic is trailing Vaio by just one goal, heating up the race for top scorer in the Italian league.
niceshin@donga.com