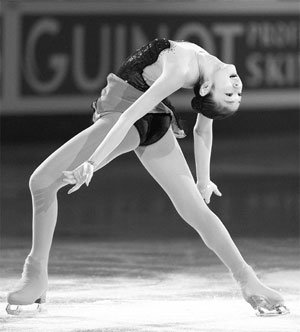 Winning the World Figure Skating Championships with a record 207.71 points might have made Kim Yu-na look brighter than she usually is.
At her news conference at the Staples Center in Los Angeles yesterday, she talked articulately with her face beaming.
She said she went to bed the previous night after having salad at her hotel. She regretted not being able to do Internet surfing that she likes so much because of a connection problem.
"In fact, it's boring," she said. "It is all about practice and then taking a break every day. There's nothing enjoyable. I'm bored."
Last year, she became a Catholic after receiving the baptismal name "Stella." "It hasn't been long since I had a religion, but it relieved me of the heavy load on my chest. Having faith helped me through my performances."
The burden of celebrity status is also weighing on her. "Though I cannot go to Korea very often, I see Korea on the Internet. It is burdensome that I've become the talk of the town though I'm nothing yet," she said.
With one goal attained, Kim is set to sweat for another goal – an Olympic gold medal. She said she will likely cry her eyes out if she wins it.
"I'd like to become a professional skater after retirement. I think what I have to do is figure skating. I want to teach young students," she said.
Her schedule over her 40-day stay in Korea after returning home today is tight. The first thing she wants to do is to watch the World Cup soccer qualifier between South and North Korea.
Kim will also make her first visit to Korea University as a freshman. In addition, she will receive a medical checkup before preparing for the KCC Switzen Festa On Ice starting April 24 at the Korea International Exhibition Center in Goyang, Gyeonggi Province.
creating@donga.com