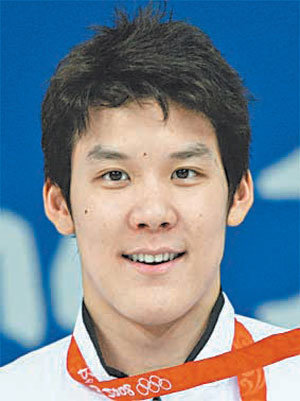 "Thank you, coach."
Olympic champion swimmer Park Tae-hwan yesterday said he will donate his bonus of 100 million won (91,282 U.S. dollars) from the Korea Swimming Federation to his coaches and staff.
"I owe my Olympic gold medal to my coaching staff," he said. "Without them, I would not have won the gold in the Olympics. As a token of my appreciation, I will donate the bonus from the swimming federation to them."
Park will receive the bonus in a ceremony today. He will give the money upon receipt to his coaches and staff.
He will give half of the reward to the coaches of the national swim team and the remaining half to his personal team.
Park will also receive bonuses from corporate sponsors who featured him in their ads. Lotte Chilsung Beverage, for example, will give a bonus of 80 million won (50 million for the gold and 30 million for the silver). Fashion brand Basic House will give 80 million won.
The swimmer is expected to receive a combined 260 million won in bonuses.
yjongk@donga.com