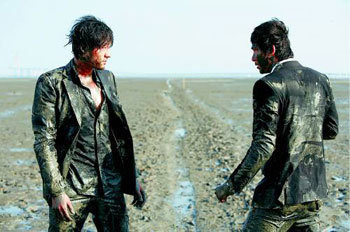 Actor So Ji-sup has returned after serving his mandatory military service. He won the hearts of millions of women for his romantic and intense role in the TV drama "I'm Sorry, and I Love You" in 2004.
In the movie "Rough Cut" slated for release Sept. 11, he plays a gangster in a black Armani suit. This movie is the directorial debut of Chang Hoon, who had served as an assistant director under Kim Ki-duk. Chang added his final touches on the screenplay, which was originally written by Kim.
"Rough Cut" interweaves two plots in the film. One is the story evolving through a film shooting scene; the other is a gangster element that blurs the line between reality and fiction similar to that of "A Dirty Carnival" by director Yoo Ha.
Gangpae (So Ji-sup) is offered a part in a movie when action movie star Suta (Kang Ji-hwan) beats up his co-star while shooting the movie. Gangpae, who once wanted to do movies, accepts on the condition that their fighting scenes are real.
The film features strong and violent action that matches the plot of two action stars wanting to beat the crap out of each other for sport. The actors are said to have been injured during filming. Director Chang said the final cut will feature real fight scenes that the two lead actors went overboard in. "Rough Cut" is a fast-paced rush of adrenaline but the film towards the end seems to fail to impress the audience.
The movie`s tagline is "Humans never know themselves until they`ve been in a fight." The fight scene in a tidal mud flat bears a striking resemblance in theme to David Fincher's "Fight Club."
"Rough Cut," however, focuses more on the mob than the animalistic instinct for survival. The scene of proud Suta's shedding tears on his knees after being beaten severely, or the scene that Gangpae brutally killed his archenemy after shooting the film, bitterly recall a phrase in the movie, "A real protagonist is the one who wins by force."
Chang said, "I had no intention of beautifying violence." The raw and vicious behavior of Gangpae, however, is idealized and fades away behind the cold and heartless eyes of actor So.
When the movie ended, the edges of the screen had pictures of the stage and audience. The phrase reading "A movie is a just movie" seems hardly a justification for all the brutal violence in the film.
sohn@donga.com