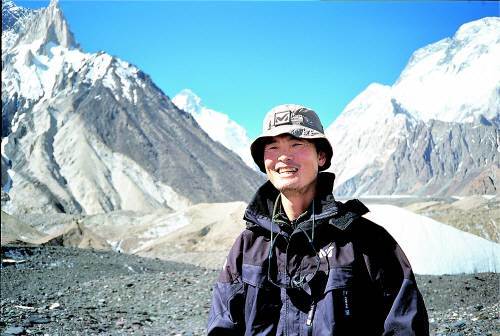 Han Wang-yong (39, Edelweiss Outdoor Corporation public relations department chief) said, "I just returned from the minefield of death. For a while, I want to enjoy with my family the fact that I am alive," when asked about by reporters about his future plans upon returning to Incheon airport on July 28, 2003 after conquering the Pakistan's Gasherbrum II (8,035m above sea level) and Broad Peak (8,047m). Han became the 11th person in the world and third Korean to climb the 14 Himalayan peaks above 8,000 meters.
Han, who has a broad smile, lacks the leadership charisma of Park Young-seok and Um Hong-gil, two climbers who climbed the 14 peaks before him. That is because he has played the role of number two besides great leaders. Out of the 14 peaks, he climbed five with Park (Han reached one summit by himself) and three with Um (Han reached one summit by himself).
Nevertheless, his spirit of sacrifice that even put his life in danger is ranked number one.
When on an expedition to K2 (8,611 m) in July of 2000, a member of the team Yoo Han-gyu (50, Korean Alpine Federation Alpine Sky committee chairman) was suffering from serious symptoms of high altitude sickness, Han gave him his oxygen tank and climbed without supplementary oxygen. Afterwards, Han underwent four surgeries due to paralysis caused by blocked cerebral arteries, and since then, his speech has also been impaired.
"He was suffering so much, what else could I do? I have no regrets," he said.
This is just an example of the mountaineer's integrity. During a climb to Mt. Everest (8,850m) in 1995, a member of the Korean University Expedition Team that reached the apex belatedly would not come down, so Han waited for him for five hours at 8,700m above sea level to save the exhausted climber.
Han, who describes the Himalayas as a minefield of death, climbed Himalayan mountains five more times after having conquered all 14 peaks. He also started the "Clean Mountain" campaign of cleaning garbage that climbers littered during climbing.
Early next month, he plans to go after Annapurna (8,091m) with leukemia patients from Uijeongbu St. Mary`s Hospital's Professor Kim Dong-wook and his team. In May next year, Han plans to invite all the other climbers that have climbed the summits of the world's tallest 14 peaks to once again climb Everest to clean it up.
Han feels sorry to his family for leaving home once again, and starts his day by feeding and sending his two sons to kindergarten, in place of his wife, who is busy as a nurse.
Chang Jeon jeon@donga.com