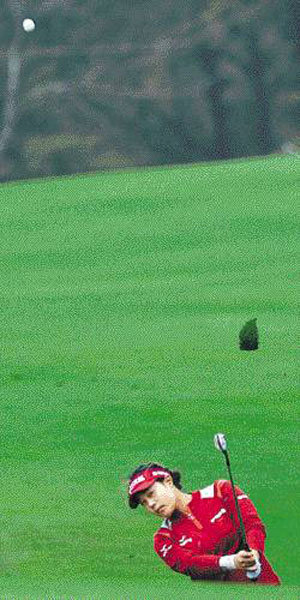 The hardened faces of the star players did not soften. The chilly rains and winds of Jeju made their bodies shrink, and made low scores hard to come by.
However, 20-year-old golfer Lee Jee-young (Himart), who is famous for her smile, was smiling throughout the whole game.
A rookie on the Korean Ladies Golf Association (KLPGA) this year, she created a sensation by being the sole leader at her first LPGA tournament.
On October 28, the first round of the CJ Nine Bridges Classic, with a purse of $1.35 million was played at Jeju Club Nine Bridge (par 72).
Lee hit a 7-under 65, with nine birdies and two bogeys, the best score of her life, and leads second place Jang Jeong (5-under 67), the winner of this years Women's British Open, and Karin Koch of Sweden by two strokes.
Lee teed off at 10:00 a.m. at the 10th hole right before the raindrops started falling hard, and made great shots, with her drives averaging 270 yards, and finished 11 holes with only one putt (22 putts for the first round).
Lee, who played after going through acupuncture and other treatments on her right wrist that she injured during practice before the tournament, said, "Yesterday my caddie, who was playing with me, had a weird dream where her driver was shattered. I will not be too ambitious and only show what I have."
Her first win as a pro was at the Women's Korean Open, a major tournament of the KLPGA, this May, showing that she was strong in big games. The win prepared her to follow in the footsteps of Ahn Shi-hyun (Kolon), who won the same tournament in 2003, and gained a ticked to the U.S. tour. Back then, Ahn was also a rookie and, after leading the first round, she went all the way to win the tournament.
By contrast, the world's best female golfer, Swede Annika Sorenstam, Grace Park (Nike Golf), and Han Hee-won (Fila Korea) teed off two hours later than Lee, and had trouble with the heavy rain. Looking for her ninth victory of this season, Sorestam had difficulties putting, scoring a 3-over 75 with Han, and defending champion Park did not meet expectations, scoring a 1-over 73 with a double-bogey at the par-4 14th hole.
Park Hee-young (Isu Construction) had a good round placing fourth with 3-under 69, and American Paula Creamer, second in the LPGA in prize money and certain to win the rookie of the year award, finished with a 1-over 73.
Jong-Seok Kim kjs0123@donga.com