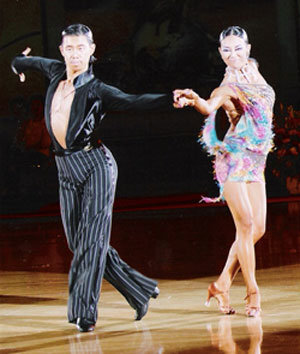 At the Korean Federation of Dancesport (KFD) Training Institute in Yeongdeungpo-gu, Seoul, a slender-figured couple is dancing to a strong Latin beat. Dancing the rumba, cha cha cha, and samba, their bodies are soon drenched in sweat.
Brother-sister team Park Ji-woo (25) and Park Ji-eun (27) are strong candidates for the dancesport gold at the Fourth East Asian Games in Macao, which will take place from October 29 to November 6. Every evening, they practice dancing in pursuit of the gold.
Dancesport, which was a demonstration sport at the 1998 Bangkok Asian Games, is a popular sport that was held as an exhibition category at the 2000 Sydney Olympics. This will be the first time for dancesport to become an official category in an international competition.
Dancesport consists of five Latin categories (rumba, cha cha cha, samba, jive, and paso doble) and five standard (modern) categories (waltz, tango, foxtrot, Vienna waltz, and quickstep), and it is rapidly gaining popularity in Korea due to the "well-being" boom.
These siblings are entering the Latin dance category. Latin dance is a strategic category for Korea. Park Ji-woo, who has danced with world-famous foreign partners, is a top 10 world star and second to none in Asia. Since this is an international competition, he formed a team with his sister, Ji-eun.
Park Ji-woo started dancing since the sixth grade while following his father, Park Hyo (58, KFD head vice president) around. He majored in ballet at Seoul Art High School, and he fostered his skills at a prestigious British dancesport school. He currently visits Great Britain from time to time, helping young hopefuls.
At the age of 16 in 1997, Park Ji-woo competed against 200 couples at the Mikasanomiya Cup, Japan's most prestigious dancesport competition, and ranked sixth in the modern category. The next year he ranked fifth in the Latin category at the NHK Cup, and in the Latin category at the 2000 Blackpool Dance Festival held in England he ranked 12th, the highest for an Asian at the time.
Park Ji-eun started dancing at the age of six and became a competitive dancer in her second year in high school.
"Winning gold? Just watch us. Many dancers are going to enter the competition…We can't guarantee anything."
The siblings are humble. But experts, including Kwon Yoon-bang, professor at Seoul National University and chairman of KFD, guaranteed that "we may expect gold."
Jong-Koo Yang yjongk@donga.com