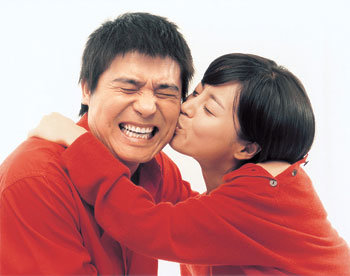 "Let's make a Korean version of 'Love Actually. What sort of love stories should we bring together? Wouldn't it be fun to have a man and a woman who are mutual enemies end up falling in love? Since the economy is so bad these days, a story about a couple keeping their love alive in the face of poverty would appeal to many. Let's balance out the generations by including a romance between middle-aged lovers. But romantic love isn't the only kind of love there is. Right, let's portray inter-generational love between an unwed mother and her daughter. Well… That's all good, but it seems a little ordinary so far. Isn't there something provocative to really spice up the movie? How about the love of a nun? That would invite too much criticism. Not if we make her a novice preparing for the life of a nun. We need some homosexual romance as well. But nothing that goes too far—we're not trying to spark controversy here. We should make it sweet and touching, like 'Love Actually' was. We should make the audience laugh in the beginning, then wring their tears at the end. If it wraps up too nice and happy, it would be too bland for Korean sensibilities. Sounds good! We'll give them sugar, and then salt. Laughter, then tears!"
This is the sort of brainstorming session that might have given birth to "The Most Beautiful Week of My Life," which opens nationwide on October 6. The film is a designed product that genetically alters "Love Actually" to suit Korean palates.
A Gift of Love that Weaves Together Six Different Colors—
The film weaves together six different love stories over a one-week period. A love-hate relationship between hapless old bachelor Detective Nah (Hwang Jeong-min) and divorced psychiatrist Yu-jeong (Eom Jeong-hwa); a love that perseveres through poverty between Chang-hu (Im Chang-jeong) and Seon-ae (Seo Yeong-hi); an inter-generational love between immature bachelor Seong-won (Kim Su-ro) and a precocious six-year-old (Kim Yu-jeong); a precarious romance between nun-in-training Su-gyeong (Yun Jin-seo) and singer Jeong-hun (Jeong Gyeong-ho); a December romance between middle-aged theater owner Gwak (Ju Heon) and chronically vain Oh (Oh Mi-hi); and the forbidden love between lonely divorcé Jo (Cheon Ho-jin) and his male housekeeper (Kim Tae-hyeon). These are the romantic pieces that come together to complete the film's larger mosaic of love.
Hwang Jeong-min's Laugh-Out-Loud Dialect and Eom Jeong-hwa's All-Out Acting—
This movie will succeed in drawing a response from the audience thanks to the diversity of its ensemble cast alone, but there's something missing, and that prevents it from being the perfect gift box of love.
What makes a great mixed gift basket? The candies, cookies, and pastries that compose it must each have their unique identities and flavors. But in "The Best Week of My Life," candies, cookies, and pastries alike seem fixated on being everything at once. In other words, rather than crafting each episode to retain its distinctive flavor, the film opts for bringing into clear relief a set number of definitive emotional through-lines. The diversity of its subject matter does not translate to a corresponding diversity of emotions; instead, everything falls into the category of happy or sad. But this is not a mistake. It is a deliberate choice that the film makes. Because of all the care poured into molding episodes that carry strong emotional through-lines, many of them (like the inter-generational and homosexual romances) come across as under-explained, as if too many of the details in their stories ended up on the cutting room floor.
Hwang Jeong-min is now at the peak of his craft. His Gyeongsang provincial dialect in this film will have you clutching your stomach in laughter. And the audience always appreciates Eom Jeong-hwa's selfless immersion in her roles. Yun Jin-seo, whose character drools all over her lover's cheek, is a master at portraying "mad love." But Im Chang-jeong's tearjerker storyline of "love and hope in the face of poverty" is becoming a bit stale.
"The Best Week of My Life" is the second full-length feature by director Min Gyu-dong, who helmed "Horror at a Girls' School II." For audiences ages 15 and up.
Seung-Jae Lee sjda@donga.com