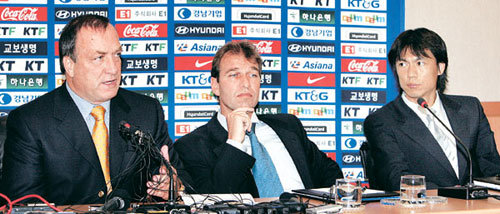 Dick Advocaat, the South Korean national soccer team's new manager, said in a press conference at the Korea Football Association (KFA) in Jongno-gu, Seoul on September 30 that "those who are not doing their best will have to go home," adding, "Mental power is the most important aspect, and I will kick players who do not do their utmost off the national squad without remorse."
Advocaat gave his word that he would become a strict manager, saying, "Everyone must fight and struggle hard to achieve good results. I'll send home players who do not show team play and iron strength in attitude. Regardless of age, I will choose players with outstanding performance." The Dutch manager committed himself to not depend on star players by saying, "I'll allow competition among players by nurturing and training young players."
"Please do not compare me with former managers Humberto Coelho or Johannes Bonfrere. Instead, compare me with Guus Hiddink. However, the former manager Hiddink had plenty of time, but I don't. I'll try my best to reap a good result that can match that of the 2002 World Cup by assessing players as soon as possible," he added.
Jong-Koo Yang yjongk@donga.com