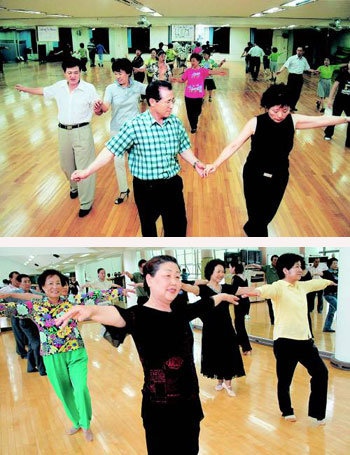 With Chuseok just a week away, it may be a good idea to check for lifestyle illnesses as well as presents.
Professor Han Gwang-hyeop of the internal medicine department at Sinchon Severance Hospital of Yonsei Medical School said, "Lifestyle illnesses are the imbalance of health resulting from a wrong lifestyle that has lasted for a long time. The illness is caused by a combination of the habitual abuse of alcohol and cigarettes, a lack of exercise, overwork, stress, and irregular eating habits."
There are ways to prevent lifestyle illnesses.
Quit Smoking; Give Anti-Smoking Patches as Presents-
It is difficult for long time smokers to quit smoking, because they are addicted to nicotine. Even quitting for a short time makes them experience withdrawal symptoms such as shaky hands, palpitating heart, and anxiety.
We can let smokers know the following: When quitting smoking at the age of 45, one can extend life expectancy by seven years, at 55 by five years, and at 65 by two to 3.7 years. In particular, if those with diabetes or high blood pressure have diseases in their lungs, suffer shortness of breath, or have phlegm should stop smoking because smoking aggravates those problems.
These days, 246 health centers nationwide have anti-smoking clinics, and smokers can confer with consultants and receive medicines for free there. If possible, make an appointment beforehand and take your parents to the clinic. You can use anti-smoking clinics in general hospitals in your neighborhood.
You can also give your parents nicotine patches or nicotine candies and gum as presents for Chuseok, let them pick their favorites, and send them their favorites in quantity for a three-month period in advance.
It Is Good to Have A Couple of Drinks a Day-
Rather than not drinking at all, it is good for one's health to drink a couple of glasses of alcohol. For healthy women, two glasses, and for healthy men three glasses are appropriate. For parents with high blood pressure, if they can control blood pressure, one glass for women and two glasses for men would be appropriate.
Professor Kim Cheol-hwan of the home-medicine department at Seoul Paik Hospital said, "Moderate amounts of alcohol relieve stress, prevent dementia, reduce bad cholesterol, and increases good cholesterol. But those with geriatric diseases such as chronic high blood pressure, diabetes, and heart disease need to abstain from drinking."
Those who suffer anxiety, shaking hands and feet, and memory loss when not drinking a glass of alcohol are heavily dependent on alcohol. Therefore they need to confer with experts. There are various abstinence programs provided by hospitals designed for one week to six-month periods, and for outpatients and inpatients.
Exercise Steadily and Slowly-
Seniors find it relatively easy to take medicines and treatments, but they find it difficult to work out. The biggest reason is that they doubt the benefits of exercise for them. However, the less you use your body, the more your body degenerates. Even those who can walk only for five minutes can walk for six and seven minutes through steady exercise.
You should not begrudge your money for investing in creating conditions for exercise. It would be a good idea to give your parents gym memberships if there are gyms nearby and they are willing to work out there. Giving them climbing equipment and boots would be good, too.
Professor Park Won-ha of the sports medicine department at Samsung Medical Center said, "It is important to give motivation to parents by asking how much exercise they do and how they feel through regular phone calls. For the elderly, exercise should be "slow and steady" rather than "fast and strong."
Jin-Han Lee likeday@donga.com