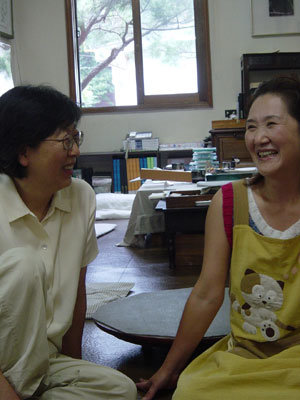 When I rang the doorbell at the home of seal engraver Heo Haeng (50), located in Nokbeon-dong, Eunpyeong-gu, Seoul, Korean painter Kim Hye-jin (52) answered the door. The two moved in together three years ago. The two cozily fenced-in houses were each used for a home and a joint workshop. Heo's engraving desk lined one side of the two-room, one-floor workshop that was renovated in a straight line, while the other end was cluttered with Kim's drawings, Korean paper, and paints. As close colleagues who give out criticism and praise freely, they raise each other's children like their own.
Kim graduated from art school and is closing in on her 20th year drawing gourd flowers. Her flowers that sway on the Korean paper with gentle blots are all unique.
Once a published poet, Heo could not have cared less about art. That Heo transformed herself into an engraver was all due to Kim.
Ten years ago, the two met at Seodaemun-gu, Seoul, as friendly neighbors. At that time, both were going through the hardest crises of their lives. Kim was drained mentally and physically from a recent divorce, and Heo returned to Korea after 20 years of living in the United States with her children. Their story began when Kim's eldest daughter started to teach Heo's children Korean. It marked the start of a sisterly friendship bridged by their children.
While Kim drew, Heo would lounge by and read books or write poetry. Glancing at Heo's penmanship and Chinese character skills, Kim suddenly begged Heo to imprint a seal. Kim promptly bought the hesitant Heo a seal engraving.
As Heo sliced through rocks with a knife, she was amazed that a lifeless rock could possess so many different textures and became more engrossed in the art of engraving the infinite in such a limited space. She immersed herself in seal engraving by teaching herself, and flourished into a skilled seal engraver after 10 years of devotion. Her pieces are unadorned and plain. She boldly avoided the complicated Chinese characters that so many expect of engraving, and opted for Korean and easier shapes. Her works, which seem at times like scribbles, and at others like the flowery hand of a calligrapher, are all the more remarkable because they are the products of self-study.
The household ladies now say their past lives were "war." Heo toiled as a displayer in a department store after returning to Korea, and Kim raised living expenses and her children by teaching drawing to housewives. Their personalities are very different. In rearing children, Heo is a liberal while Kim is the strict mom. Kim spends sleepless nights drawing and Heo works in the evenings after her department shift. Breakfast is Heo's responsibility while dinner is Kim's. Kim gushed that Heo was "the most intelligent and kind person I've ever met," and Heo returned the favor, saying, "Kim is a hardworking, openhearted angel." No vacancies for Husbands and fathers here.
Rather than the joint September exhibits they usually opened every year, this year Heo will hold an individual exhibit at Hwa-dong, Jongno-gu, Seoul, called "Space Morning" (02-723-1002) until September 26, and Kim will follow up with an art fair called "MANIF" from October 6 to 18 at the Seoul Arts Center in Seocho-dong.
Mun-Myung Huh angel@donga.com