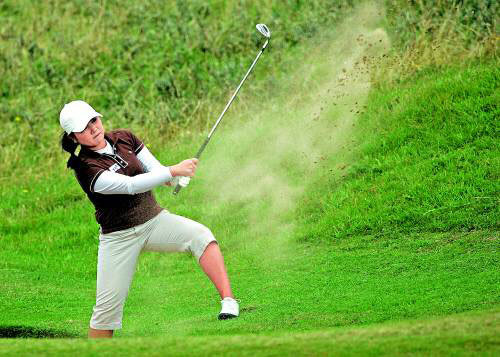 She was given a masculine name even before she was born. Having two elder daughters, her family was desperate to have a son.
Jang Jeong (25), who came into the world that way, is finally on the verge of finishing her long and tough journey to the top.
On July 31, the third round of the Women`s British Open, the last major ladies` golf tournament of this season with a total prize of 1.8 million dollars was held at the Royal Birkdale Golf Club (par 72) in Southport, United Kingdom (U.K.).
Jang Jeong, who joined the United States (U.S.)` Ladies Professional Golf Association (LPGA) Tour in 2000 despite her short height of 151cm, shot a three-under par 69 with five birdies and two boggies, taking the solo top spot for three days in a row with an interim total of 13-under par 203. She is five shots ahead of two players tied for second place, Annika Sorenstam of Sweden and Christie Kerr of the U.S.
This is her sixth season on the tour and Jang Jeong is highly likely to win the first major championship trophy, which she has long been looking forward to. She has come in second in major events three times.
Jang Jeong, who will be going up against Sorenstam, the strongest player in the championship group, in the final round of the tour, said she would just concentrate on the game, paying no attention to who her counterpart would be, and even enjoy the tension.
Having made her debut in the U.S. Tour in 2000 as a conditional seed, Jang Jeong successfully won a full seed with a money total of $197,886 (ranked 44), even though she had to wait for a vacancy or take part in preliminaries in every single tournament.
Since the year 2001, she forced herself to participate in more than 25 tournaments a year, because she, having no particular sponsors, had no choice but to pay all of her tour expenses from her gold earnings.
Her family members are devoting themselves to supporting her.
Her father, Jang Seok-joong (60), a former baseball player at Daejeon High School who later worked as a police officer, drove his used van throughout the U.S. so much that the mileage on his car reached nearly 100,000km a year. Jang Mi-kyung, her 30-year-old eldest sister, served as her manager, and Lee Kyung-sook (53), Jang`s mother, who had run a restaurant in Daejeon, sold her restaurant last year and went to the U.S. this year to take care of her youngest daughter. Jang Eun-kyung (28), the second eldest sister who went to the same kindergarten with another famous Korean golfer, Pak Se-ri (CJ), is staying in the family`s original home in Daejeon.
Meanwhile, " the long-hitting teen" Michelle Wie (15, Korean name: Wie Sung-mi), cut her score by five shots to enter into a three-way tie for fourth place with Kim Young (Shinsegae) and her teenage rival, Paula Creamer, (18, U.S.) with an interim score of seven-under par 209.
Jong-Seok Kim kjs0123@donga.com