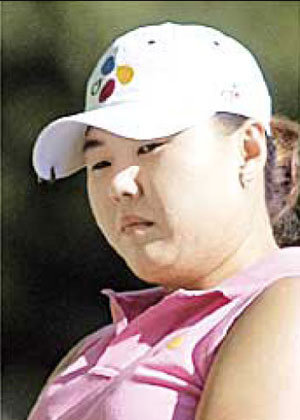 Despite going through hell and high water, the final error blew away the chance of winning the championship.
In the final round of the LPGA Jamie Farr Owens Corning Classic, held in Sylvania, Ohio, Grace Park got five birdies to finish the round at 5-under-66, tying with Heather Bowie, who recorded a total score of 10-under-274. In the playoff, Park lost to Bowie in the third round to finish in second place. She has ranked in the top 10 eight times this year, the most among Korean players.
In the first playoff game held at the 18th hole (par 5), Park chipped in a four-meter putter to tie the game. She continued her impressive play in the 17th hole (par 5), completing a six-meter putt for a birdie to tie the game yet again. In the 18th hole, however, her 3-wood tee shot went off the way and landed in the deep rough. The second shot went into a brook across the fairway, and she finished the hole with a triple bogey.
Bowie, who made her LPGA debut in 2000, finished the hole with a par to earn her first title in 138 games. Han Hee-won, who led the game by four strokes until the 10th hole, got a 3-over-par in the remaining holes to finish the game at 9-under-par, tying with Yim Sung-ah in third place.
Jong-Seok Kim kjs0123@donga.com