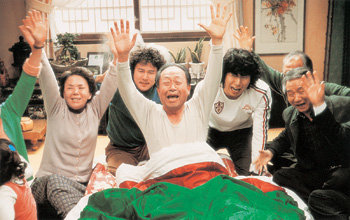 The movie "Super Family" forces one "to laugh and laugh" based on its unique theme of "unification fiction." Actor Kam Woo-sung, known for being serious and genuine, virtually degrades himself for the role, and actor Kim Soo-ro, a "guarantee check" for comedy, talks on and on in improvisation. The movie would not have been "super" without them.
Mr. Kim, an old man (Shin Koo) from North Korea, desperately wants to see the wife and daughter he left in the North. Kim is diagnosed with terminal cancer one day, and his first son Myung-suk (Kam Woo-sung) realizes that his father owns real estate worth five billion won. Myung-suk is at a loss when he finds a will his father wrote that says, "I will donate my entire estate to the unification project if the two Koreas remain divided." Myung-suk secretly conspires with his younger brother Myung-kyu (Kim Soo-ro), a "low-class" erotic film director, to trick their father with fake TV news reports and newspapers into believing that the Koreas are reunified in order to inherit his fortune.
The idea of "unification fiction" is, of course, a clever one when Korea is divided into two. However, the problem is that most of the episodes in the movie do not get their message across, merely depending on the fancy theme of unification. That the old man, Kim, continues to be fooled by the flimsy deception is not quite convincing for the audience. Overall, the movie, by intending to make the audience laugh with its "unification fiction," even makes the concept of "unification"—which Kim longs for day and night—seem funny and shallow. As the movie nears the end, when it changes mood from comical to touching, the lampooning of "unification fiction" contaminates the moving theme of "unification" itself. This is why the transition must rely exclusively on the experienced acting of Shin Koo rather than on any solid plot.
Kam Woo-sung entertains the audience with his hair permed, resembling a middle-aged woman, and even with his fringe stuck on his forehead like a middle-school girl. This is a totally different style from the previous characters he played in "R-Point" and "The Spider Forest," where he acted with depth and seriousness. However, this time, it seems like he is just taking a "working vacation" rather than changing his image and expanding his scope as an actor. Moreover, one begins to find it boring to watch Shin Ee, who plays an erotic actress, playing the same old role all over again.
It is worth noting that some scenes were shot in North Korea (Onjonggak recreation center at Kumkang Mountain, Kim Jong suk recreation center, and, Mokrangak) for the first time in the history of Korean cinema. The film also went for shock value in its "super sensational marketing" by setting up a "Mole Game" on its website where one hits the heads of U.S. President George W. Bush and Japanese Prime Minister Junichiro Koizumi with hammers. It would have been better if more focus had been placed on the substance instead of the packaging.
First work of Director Cho Myung-nam. Opens in theaters on June 9. For ages 12 and over.